8th Congress of ECCO, Vienna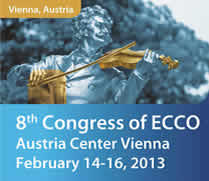 The 8th Congress of ECCO was held on February 14-16, 2013 at the Austria Center Vienna in Austria. Thank you to all delegates for your participation!
Once again, a record attendance has been achieved – ECCO is proud to have hosted 4,515 participants in Vienna.
The secret files of ECCO... watch the summary trailer of the ECCO'13 Vienna Congress:
Congratulations to the winners of the top 10 posters of the 8th Congress of ECCO:
Statistics of 8th Congress of ECCO

ECCO13_Vienna_General_statistics.pdf98.77 KB


ecco13_vienna_country_statistics.pdf100.53 KB