P306. Tryptophan deficiency in Crohn's disease
S. Nikolaus1, N. Al-Massad1, J. Bethge1, G. Wätzig2, P. Rosenstiel3, R. Junker4, F. Thieme4, S. Schreiber1, 1University Hospital Schleswig-Holstein, Campus Kiel, 1st Med. Department, Kiel, Germany, 2Conaris Research Institute, Research, Kiel, Germany, 3Institute of Clinical Molecular Biology, Research, Kiel, Germany, 4University Hospital Schleswig-Holstein, Campus Kiel, Institut für Klinische Chemie, Kiel, Germany
Background
Malnutrition leads to intestinal inflammation and diarrhoea. In recent studies we have identified ACE2 as a key regulator of dietary amino acid homeostasis, innate immunity, gut microbial ecology, and transmissible susceptibility to colitis which can be directly regulated by the dietary amino acid tryptophan (TRP) [1]. Moreover, B0AT1, the colonic TRP transporter, is downregulated in IBD mucosa [1]. We investigated the role of TRP in a consecutive series of patients with IBD (n = 258) and healthy controls (n = 100). 116 patients were seen twice.
Methods
In 258 consecutive patients with IBD from an outpatient setting (78 patients with UC, 167 with CD, 13 with indeterminate colitis) and 100 consecutive healthy blood donors a serum sample was prospectively obtained during a four week sampling campaign to assess TRP levels. Patients were clinically characterized and TRP levels were related in an exploratory analysis to clinically characteristics, age, severity of disease, gender, BMI, smoking status CRP and duration of disease. A forward and backward logistic regression was performed.
Results
TRP levels in patients with IBD were significantly lower (P < 0.0001) than in controls. The signal was stronger in CD patients in whom TRP levels were lower than in UC (P = 0.044). A clear relationship of low TRP levels was seen with high disease activity (P = 0.0077 for UC and P = 0.0070 in CD). Female individuals had lower TRP levels than male individuals, both in controls (P = 0.0097) and patients (P = 0.0006). TRP levels were correlated with BMI (P = 0.015 in controls and P < 0.0001 in patients). The examination of TRP and smoking status was heavily confounded by the uneven distribution of smokers (n = 8 (10.3%) in UC, n = 67 (36–5%) in CD, P < 0.0001). No correlation of TRP levels and age or duration of disease could be found.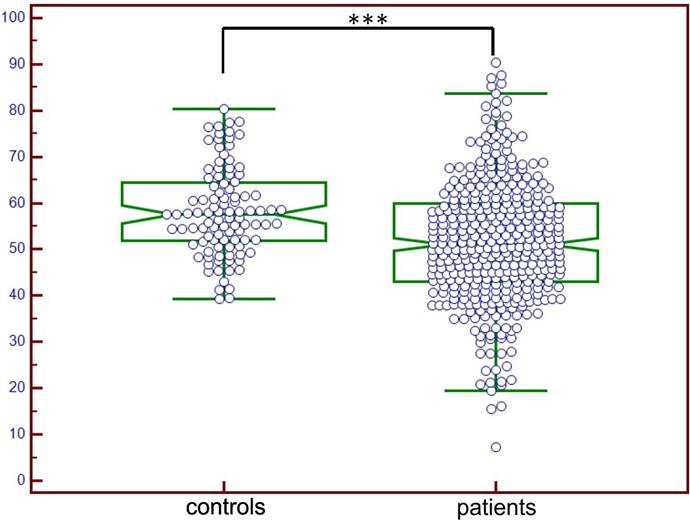 Conclusion
Tryptophane deficiency appears to be an important, novel mechanism in IBD. It appears likely that low TRP levels in serum reflect a reduced availability of TRP metabolites on the mucosal surface or an increased consumption through the inflammatory process. In analogy to murine models TRP deficiency could cause the microbial changes seen in IBD and promote the rise of a colitogenic flora.
Supported by a grant from CONARIS Research Institute AG
1. Hashimoto T et al. Nature 2012.