DOP010 Incidence of inflammatory bowel diseases in the Faroe Islands from 1960-2014: a 54-year overview from a population-based cohort
T. Hammer*1, K. Rubek Nielsen2, J. Burisch3, P. Munkholm4, E. Lynge5
1University of Copenhagen , Department of Public Health, Copenhagen , Denmark, 2National Hospital of the Faroe Islands, Medical Department , Genetic Biobank, Tóshavn , Faroe Islands, 3Hvidovre University Hospital , Gastrounit, Medical section , Hvidovre , Denmark, 4North Zealand Hospital, Capital Region, University of Copenhagen , DEEP – Danish Center for eHealth and Epidemiology, Copenhagen , Denmark, 5University of Copenhagen , Department of Public Health , Copenhagen , Denmark
Background
Inflammatory bowel disease (IBD) consists of Crohn's disease (CD), ulcerative colitis (UC) and IBD unclassified (IBDU). In 2010 and 2011, the European Crohn's & Colitis Organization's Epidemiological Committee study (ECCO-EpiCom) found the highest incidence rate in the world on the Faroe Islands of 83 per 100,000 person-years (1). In the present study we assessed the long-term time trends in IBD incidence in the Faroese population of approximately 49,000 inhabitants.
Methods
Data were retrieved from the national patient registry at the Medical Department at the National Hospital of the Faroe Islands and included all cases of CD, UC and IBDU from July 1960 to July 2014. Patients of all ages who where diagnosed with IBD in the Faroe Islands were included. Diagnoses were determined according to the Copenhagen Diagnostic Criteria.
Results
A total of 664 patients have been diagnosed with IBD in the last 54 years on the Faroe Islands, 114 with CD, 417 with UC and 133 with IBDU. In 1960-79, a total of 55 persons were diagnosed; 105 in 1980-89; 166 in 1990-99; 179 in 2000-09, and 159 persons from 2010 until the end of July 2014. This represents an increase in the age-standardised IBD incidence rate (European Standard Population, ESP) from 8, 25, 41, 42, to 75 per 100,000 person-years. The age-standardised incidence rate (ESP) was also calculated for CD, UC and IBDU. For CD, the rate increased from 1 to 10, for UC from 5 to 43 and for IBDU from 2 to 21 per 100,000 person-years (figure 1).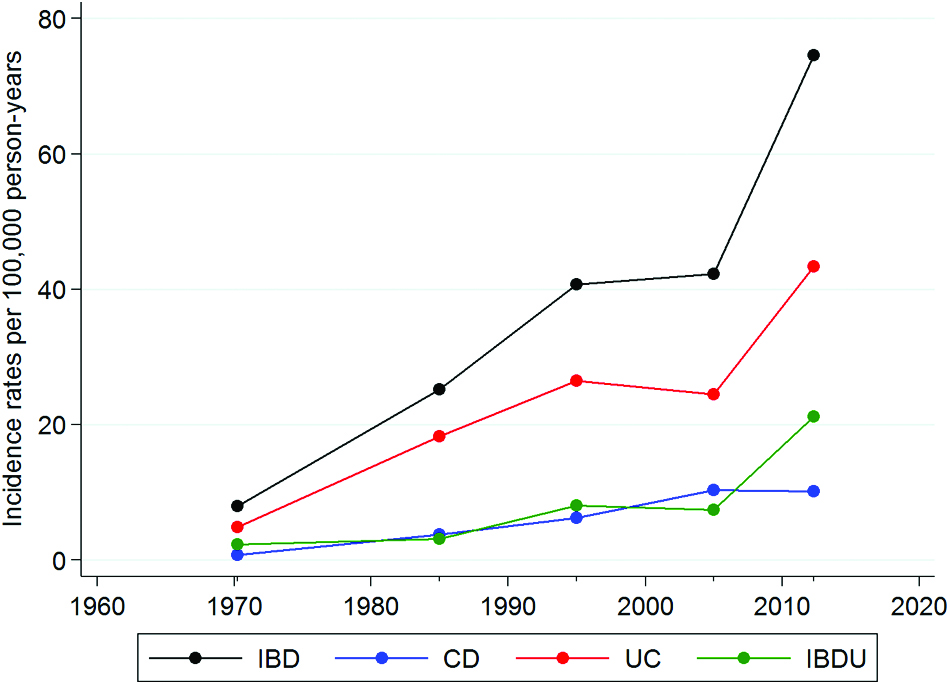 "Figure 1 Incidence rates for IBD, CD, UC and IBDU for the periods 1.7.1960-31.12.1979, 1.1.1980-31.12.1989, 1.1.1990-31.12.1999, 1.1.2000-31.12.2009 and 1.1.2010-31.7.2014 in the Faroe Islands."
Conclusion
The highest incidence of IBD in the world is found on the Faroe Islands. The increase in the IBD incidence over the last 54 years has been dramatic, from 8 in 1960-79 to 75 in 2010-14 per 100,000 person-years. Such a rapid change is most likely linked to not only increased diagnostic awareness but also to so far unidentified environmental factors.
[1]
References:
[1] Burisch J, Pedersen N, Cukovic-Cavka S, et al. , (2014), East-West gradient in the incidence of inflammatory bowel disease in Europe: the ECCO-EpiCom inception cohort. , Gut. Apr;63(4):588-97.