P505 Biosimilar but not the same
C. Murphy*, K. Sugrue, G. Mohamad, J. McCarthy, M. Buckley
Mercy University Hospital, University College Cork, Centre for Gastroenterology, Mercy University Hospital, Cork, Ireland
Background
A biosimilar medicine is a biological medicine that is developed to be similar to an existing biological medicine (the 'reference medicine') [1] . The European Medicine Agency allows extrapolation of indications for use of approved biosimilars based on indications for use of the reference product with the need for rigorous pharmacovigilance. Biosimilars have been viewed as potentially cost saving. [2] Inflectra was introduced in the department for IBD patients requiring commencement of anti-TNF treatment in January 2014. This is the first discription of the use of biosimilars in an IBD population in the Western World.
Methods
In this descriptive study, 14 consecutive patients who were commenced on Inflectra from January to July 2014 are compared to 22 consecutive patients commenced on Infliximab (Remicade) from Dec 2011 to Dec 2013. A direct comparison and statistical analysis was performed investigating surgery rates, readmission rates, use of steroids, disease activity and CRP trends.
Results
Demographics of both patient cohorts were comparable. 29% of patients in Inflectra group required surgery versus 0% in the Inflixiamb group (p= 0.02).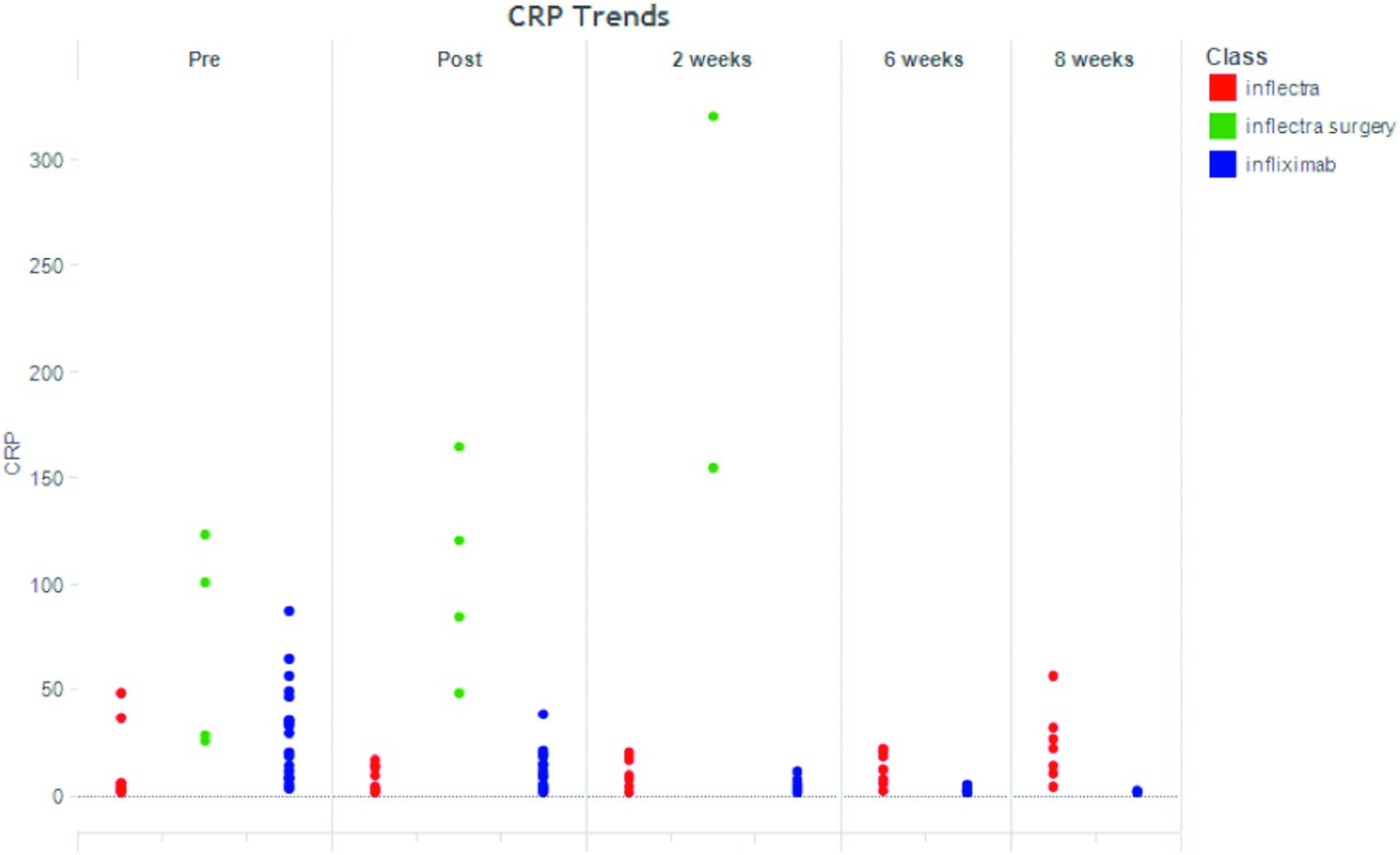 "Rates of surgery in Infliximab and Inflectra groups"
80% of the inflectra group required hospital readmission versus 5% of the infliximab (remicade) group. (p=0.00004). 60% of patients in the Inflectra group needed steroid augmentation of standard steroid tapering protocol with 50% requiring multiple increases in steroid dose versus 8% of patients in the Infliximab (p-value = 0.0007).Over the course of 8 weeks, 93% of patients in the Inflectra group had an increase in CRP with 7% remaining unchanged whereas 100% of patients in the infliximab group had a decrease in CRP (p=<0.001).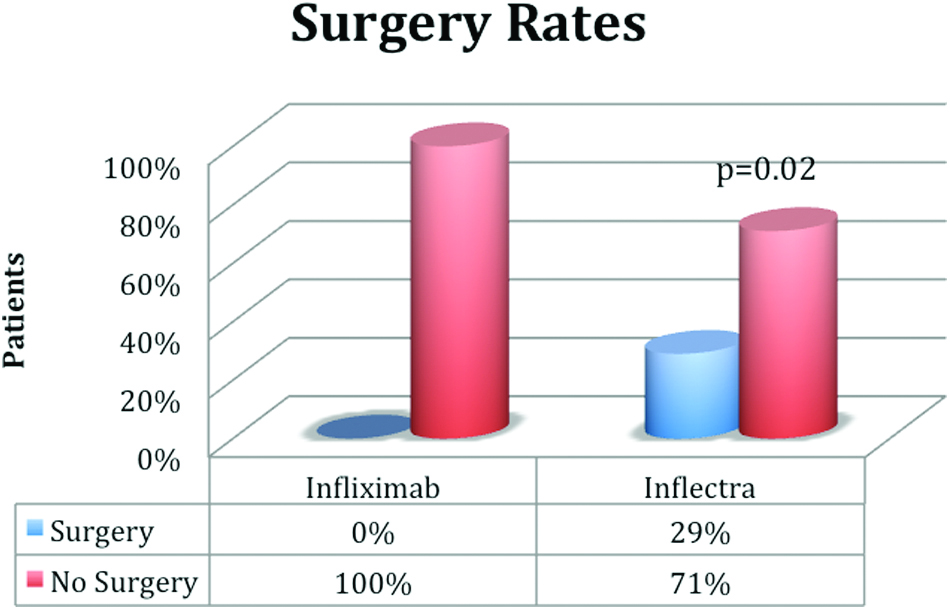 "CRP trends in Infliximab, Inflectra and Inflectra surgical patients groups."
Conclusion
Our results suggest that biosimilars may not be as efficacious as the reference medicine. The results found reflect the ECCO statement position that the use of most biosimilars in IBD will require testing in this particular patient population [3] and cannot be extrapolated from other disease populations.
References:
[1] European Medicines Agency, (2012), Questions and answers on biosimilar medicines (similar biological medicinal products) , European Medicines Agency, EMA/837805/2011 , http://www.ema.europa.eu/docs/en_GB/document_library/Medicine_QA/2009/12/WC500020062.pdf , 2014-11-20
[2] Silvio Danese, Fernando Gomollon on behalf of the Governing Board and Operational Board of ECCO, (2013), ECCO position statement: The use of biosimilar medicines in the treatment of inflammatory bowel disease (IBD) , Journal of Crohn's and Colitis , 586-589 , 7
[3] Silvio Danese, Fernando Gomollon on behalf of the Governing Board and Operational Board of ECCO, (2013), ECCO position statement: The use of biosimilar medicines in the treatment of inflammatory bowel disease (IBD) , Journal of Crohn's and Colitis , 586-589 , 7