OP025 Evaluation of adalimumab effectiveness in anti-tumor necrosis factor-naïve pediatric patients with Crohn's disease in clinical practice
Steiner S.*1, King E.2, Park K.3, Pashankar D.4, Shashidhar H.5, Sudel B.6, Eichner S.7, Chen S.2, Pratt J.2, Colletti R.8 ImproveCareNow Network, Burlington, United States
1Riley Hospital for Children, Indiana University School of Medicine, Indianapolis, United States 2Cincinnati Children's Hospital Medical Center, Cincinnati, United States 3Lucile Salter Packard Children's Hospital, Stanford University, Palo Alto, United States 4Yale-New Haven Children's Hospital, New Haven, United States 5New Hampshire's Hospital for Children, Manchester, United States 6University of Minnesota Masonic Children's Hospital, Minneapolis, United States 7AbbVie, North Chicago, United States 8University of Vermont Childen's Hospital, Burlington, United States
Background
Adalimumab is an anti-tumor necrosis factor (ATNF) agent approved for the treatment of Crohn's disease in children since September 2014. We assessed the duration and effectiveness of adalimumab treatment in pediatric Crohn's disease patients in clinical practice without prior ATNF therapy.
Methods
In a retrospective cohort study using registry data from clinical care visits at 43 centers in the USA in the ImproveCareNow Network, ATNF-naïve patients induced with adalimumab prior to 18 years old with at least one post-induction visit were identified. We assessed the duration of treatment and the clinical effectiveness of adalimumab based on steroid-free clinical remission using Physician Global Assessment (PGA, inactive) and Short Pediatric Crohn's Disease Activity Index (sPCDAI, ≤10), as well as steroid-free clinical response using PGA (inactive or mild) and sPCDAI (≤25). Clinical care and frequency of visits were decided by the patient, parent and clinician. Data from clinical care visits were assessed every 3±1.5 months for 1 year, then every 6±3 months through 3 years. Descriptive statistics, Fisher's Exact Test and multivariable logistic regression analyses were performed.
Results
There were 174 patients (57% male, 25% <13 years old at induction) treated with adalimumab from August 2008 to December 2015. The number of patients followed post-induction for 3, 6, 12, 24 and 36 months was: 174, 174, 154, 71 and 39; the percentage of followed patients remaining on adalimumab was: 100%, 95%, 94%, 97% and 80%.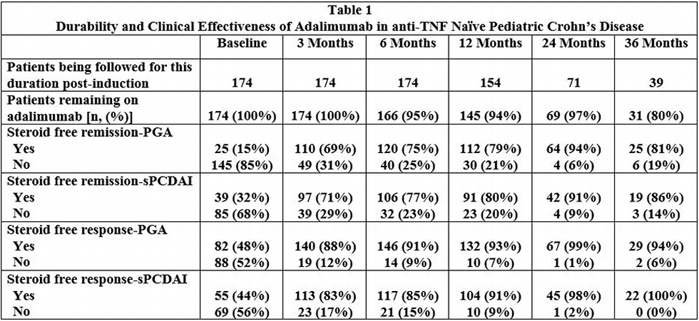 Of patients on adalimumab at 3, 6, 12, 24 and 36 months: 69%, 75%, 79%, 94% and 81% were in steroid-free clinical remission by PGA; and 71%, 77%, 80%, 91% and 86% by sPCDAI. Of patients on adalimumab at 3, 6, 12, 24 and 36 months: 88%, 91%, 93%, 99% and 94% had a steroid-free clinical response by PGA; and 83%, 85%, 91%, 98% and 100% by sPCDAI. Concomitant immunomodulator therapy did not appear to improve outcomes.
Conclusion
In the largest series with the longest follow-up, adalimumab was durable and effective as initial ATNF therapy for pediatric Crohn's disease in clinical practice. Of patients followed for 24 months, 97% remained on adalimumab. Steroid-free clinical remission was achieved in 91%–94%, and steroid-free clinical response in 98%–99%, of patients who remained on adalimumab for 24 months. The effect of dosage on outcomes is being investigated. These findings are important for patients, parents and clinicians considering ATNF therapy.