JCC China 2013
Journal of Crohn's and Colitis - JCC China
In 2013, ECCO established a translated version of the Journal of Crohn's and Colitis for the Chinese scientific community, in conjunction with ECCO's former publishing house Elsevier.
The Chinese Edition of the Journal consisted of a selection of articles from the original Journal, translated into Chinese – JCC China.
The articles for the Chinese Edition were selected by a Chinese Editorial Board, all approved by the Editor-in-Chief of the original JCC, and were related to or relevant to the Chinese scientific community. Care was taken to avoid any promotional or other bias and to ensure the quality of translation.
The Editor-in-Chief of the Chinese Editorial Board was Professor PJ Hu, Chairman, Dept. of Gastroenterology of The Sixth Affiliated Hospital of Sun Yat Sen University, Guangzhou, China. He was assisted by Associate Editors, Profs Jia-ming Qian, Bing Xia, Kai-chun Wu, Zhi-hua Ran, Yun-sheng Yang, Yao-zong Yuan, Min-hu Chen and Shu-tian Zhang, with Honorary Editors Professors Dai-ming Fan and Qin-Ouyang.
Four issues were scheduled for 2013, circulated to 2,000 clinicians, supported by a grant from Ferring Pharmaceuticals.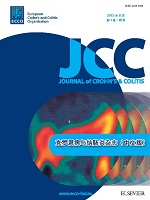 ECCO Members can download the JCC China issues in the restricted members' area on the ECCO website.