N009. Confirmed: the knowledge of inflammatory bowel disease patients is poor
M. Sephton1, S. Tattersall2, K. Kemp3, R. Campbell4, J. Dougherty5, A. Fergusson6, L. Gray7, B. Gregg8, A. Hurst9, T. Law10, L. Parkinson11, V. Hall2, 1University Hospital South Manchester, Gastroenterology, Manchester, United Kingdom, 2Royal Bolton Hospital, Gastroenterology, Greater Manchester, United Kingdom, 3Manchester University, Nursing Department, Manchester, United Kingdom, 4Stepping Hill Hospital, Gastroenterology, Stockport, United Kingdom, 5Warrington & Halton Hospital, Gastroenterology, Warringtion, United Kingdom, 6East Lancashire Hospitals, Gastroenterology, Blackburn, United Kingdom, 7Countess of Chester Hospital, Gastroenterology, Chester, United Kingdom, 8Royal Liverpool & Broadgreen University Hospitals, Gastroenterology, Liverpool, United Kingdom, 9University Hospital Aintree, Gastroenterology, Liverpool, United Kingdom, 10Pennine Acute Trust, Gastroenterology, Greater Manchester, United Kingdom, 11Blackpool Teaching Hospitals, Gastroenterology, Blackpool, United Kingdom
Background
The knowledge of Inflammatory Bowel Disease (IBD) patients has recently been deemed to be poor [1]. It's not clear if this represents the knowledge of just a single hospital trust, or if it is representative of the whole IBD patient community. Furthermore, it is also unclear how satisfied patients are with their own knowledge.
Methods
We repeated a prospective questionnaire based study using the Crohn's and Colitis knowledge (CCKNOW) questionnaire across 8 different hospital trusts in the Northwest (NW) region of the UK. We also asked patients to rate their level of satisfaction with their level of knowledge of IBD. 127 patients were selected randomly from 8 different hospital trusts. We compared our results in the NW to the 139 questionnaires that have been previously completed and published from one hospital trust.
Results
The number of correct answers per validated question was compared to previous published data from a single centre.
The results of our study and previous published data are similar with the exception of 5 questions. It is difficult to clarify the rational for the variations in these 5 questions, but is probably due to a variation in the past experiences and type of patients completing the questionnaire, as these 5 questions were based on treatments as opposed to symptoms or anatomy. The mean and median CCKNOW score was 10.12 and 9 respectively in the NW cohort. Patients do not recognise their deficit in their knowledge because none of our patients reported dissatisfaction with their level of knowledge despite the results showing a poor level of IBD knowledge.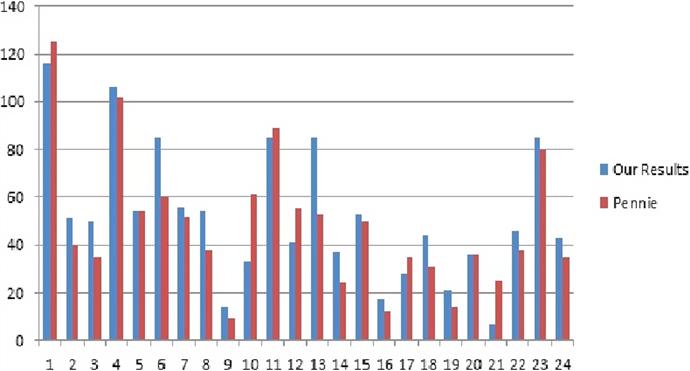 Conclusion
This study confirms the knowledge of IBD patients is poor and is not just representative of one hospital trust. It also confirms that patients do not recognise their deficit in their knowledge. This study echos previous recommendations that IBD teams need to do more to actively educate their patients. We are currently planning a rolling 12 month IBD patient educational programme in the NW region to investigate the possible benefits to IBD patients.
1. Butcher, R. O., Law, T. L., Prudham, R. C, & Limdi, J. K, (2011), Patient knowledge in Inflammatory Bowel Disease: CCKNOW – how much do they know?, Official Journal of the Crohn's and Colitis Foundation of America, inc, Inflamm Bowel Dis, E131-E132, 10–17, http://onlinelibrary.wiley.com/doi/10.1002/ibd.21810/abstract, 2012–08–30, The Pennine Acute Hospital.