N011. A comparison of gastroenterology and non-gastroenterology nurses' knowledge of inflammatory bowel disease
M. Sephton1, S. Tattersall2, K. Kemp3, A. Hurst4, L. Gray5, B. Gregg6, T. Law7, L. Parkinson8, V. Hall2, 1University Hospital South Manchester, Gastroenterology, Manchester, United Kingdom, 2Royal Bolton Hospital, Gastroenterology, Greater Manchester, United Kingdom, 3Manchester University, Nursing Department, Manchester, United Kingdom, 4University Hospital Aintree, Gastroenterology, Liverpool, United Kingdom, 5Countess of Chester Hospital, Gastroenterology, Chester, United Kingdom, 6Royal Liverpool & Broadgreen University Hospitals, Gastroenterology, Liverpool, United Kingdom, 7Pennine Acute Trust, Gastroenterology, Greater Manchester, United Kingdom, 8Blackpool Teaching Hospitals, Gastroenterology, Blackpool, United Kingdom
Background
The Inflammatory Bowel Disease (IBD) Service Standards within the UK stipulates that in-patients with IBD should, where possible, be managed within a specialist gastroenterology ward area. [1] There is a general consensus that this, and the IBD Standards, will deliver safe, high-quality patient centered care. The aims of this study were to assess the knowledge base of ward nurses on a specialist gastroenterology ward and then compare to nurses on a non-gastroenterology ward.
Methods
80 ward nurses, 40 on a gastroenterology ward and 40 on a non-gastroenterology ward, completed the Crohn's and Colitis knowledge (CCKNOW) questionnaire. CCKNOW is a validated questionnaire to assess specific IBD knowledge relating to the disease. The nurses were randomly sampled from 7 hospital trusts in the Northwest of England, UK. The findings of the 2 groups were analysed and compared.
Results
The number of correct answers per validated question is shown for the gastroenterology nurses compared with non-gastroenterology nurses.
The mean and median CCKNOW score for the gastroenterology nurses is 16.08 and 16 respectively, with the mean for non-gastroenterology being 13.55 and median 14. The gastroenterology nurses demonstrated more knowledge about treatments of IBD, whereas the non-gastroenterology nurses were more knowledgeable with regards to anatomy. The colorectal cancer surveillance question was answered incorrectly by ALL non-gastroenterology nurses. The overall knowledge of all 80 nurses was deemed to be poor.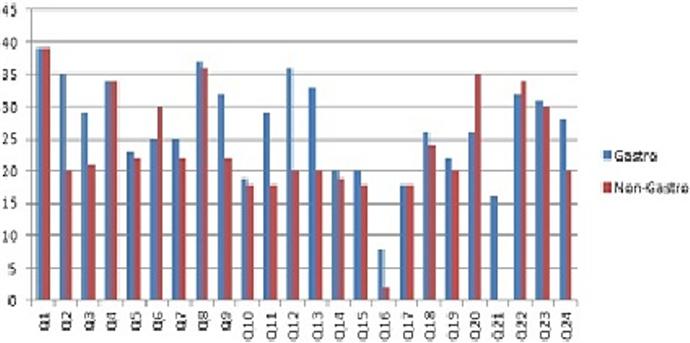 Conclusion
This study confirms that gastroenterology ward nurses are no more knowledgeable about IBD than non-gastroenterology ward nurses, apart from treatments. Knowledge of aetiology, symptoms, surgery, complications, pregnancy and fertility were of similar value between the two different groups of nurses. Non-gastroenterology nurses had more knowledge of the anatomy of the gastrointestinal tract. IBD teams need to do more to educate gastroenterology ward nurses on IBD and the anatomy of the gastrointestinal tract.
1. IBD Standards Group, (2009), Quality care – Service standards for the healthcare of people who have inflammatory bowel disease. http://www.ibdstandards.org.uk/, 2012–10–01.