P133. The incidence of IgG4-positive plasma cell mediated colitis in the absence of autoimmune pancreatitis
E. Saritas Yuksel1, B. Unsal1, Z. Akpinar1, S. Gunay1, N. Ekinci2, F. Unay2, 1Izmir Ataturk Teaching and Research Hospital, Gastroenterology, Izmir, Turkey, 2Izmir Ataturk Teaching and Research Hospital, Pathology, Izmir, Turkey
Background
The prevalence of inflammatory bowel disease (IBD) in patients with autoimmune pancreatitis (AIP) is approximately 7.6%. However, the incidence of IgG4-positive plasma cell mediated colitis in the absence of AIP is unclear. Diagnosis can be confirmed by histology of affected organs, which reveals increased numbers of IgG4-positive plasma cells. Patients with a clinical diagnosis of IBD, with or without a history of pancreatic disease, may have an IgG4-related colitis. Attention for non-IBD colitis may improve clinical setting and lead to other therapies. We sought the incidence of IgG4-positive plasma cell mediated colitis in the absence of autoimmune pancreatitis.
Methods
We performed IgG4 immunoperoxidase staining in ileo-colonic biopsies from 119 IBD patients with no evidence of autoimmune pancreatitis proven by endoscopic ultrasound or computed tomography and biochemical findings (normal amylase and lipase levels during symptoms such as abdominal pain and diarrhea). Five high power fields (HPF) were assesed in each individual. Serum IgG4 levels were evaluated in the individuals with averages of IgG4-positive plasma cell numbers in five HPFs which were more than 10.
Results
Of 119 patients, 106 had ulcerative colitis (UC), 6 had Crohn's disease (CD) and 7 had indeterminate colitis (IC). 21 patients (17 male, 4 female) (19 UC, 2 CD) (17.6%) had more than 10 IgG4-positive plasma cells per HPF. In this subgroup, the mean endoscopic activity score for UC was 8 (6–12) whereas the mean simplified endoscopic activity score (SES-CD) was 6. 5 out of 21 patients had IgG4 serum levels higher than 140 mg/dl. Taking the HISTORt criteria as the gold standart 5 out of 119 (4.2%) patients were diagnosed as IgG4-associated disease. This group did not have any demographic, clinic or biochemical statistical differences from the whole IBD group.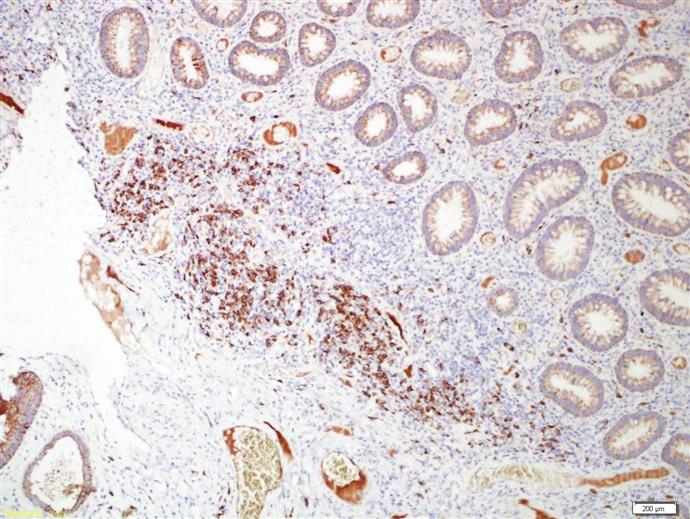 Conclusion
Since both conditions might mimic each other, IgG4-related colitis should be kept in mind for patients followed up with the diagnosis of IBD. This is the first study assessing the prevalence of IgG4-related colitis in the absence of AIP.