P145. Risk factors for repetitive ileocolic resection in Crohn's disease patients
C.N. Manser1, P. Frei2, L. Biedermann1, J. Mwinyi3, S. Vavricka4, G. Rogler1, 1University Hospital of Zurich, Clinic of Gastroenterology and Hepatology, Zurich, Switzerland, 2See Spital Horgen, Gastroenterology Unit, Clinic of Internal Medicine, Horgen, Switzerland, 3University Hospital Zurich, Department of Clinical Pharmacology and Toxicology, Zurich, Switzerland, 4Triemlispital Zurich, Department of Gastroenterology and Hepatology, Zurich, Switzerland
Background
Despite medical treatment almost 80% of patients with ileal CD undergo resection of diseased bowel. CD usually recurs after resection. Risk factors (RF) for early postoperative recurrence and second ileocolic resection (ICR) evaluated in previous studies were penetrating disease behaviour, family history of IBD and smoking at time of initial ICR, while postoperative immunomodulator therapy (IMT) has been found to decrease the risk.
Methods
Data of the Swiss IBD cohort study (SIBDCS) were retrieved. Patients requiring one or more 1 ICR were included and classified according to the Montreal Classification with regard to age, disease location and behaviour. Gender, family history of IBD and smoking status were evaluated. We finally recorded IMT with thiopurines or methotrexate as well as biologicals before, parallel to and after first ICR.
Results
At the beginning of 2012 1119 CD patients were included into the SIBDCS, of whom 305 patients required at least 1 ICR. 155 patients were female, 150 were male with a mean age of 28.5±13.8 years. 60 of the 305 patients required at least one additional ICR. Therefore a group of patients with repeatedly performed ICR (ICR > 1) and a group with only one ICR (ICR = 1) were defined. Mean time until first ICR significantly varied between the groups, being 6.58 years in the ICR = 1 group and 4.80 years in the ICR > 1 group (Figure 1). Mean time to second ICR was 6.1 years. RFs for a second ICR determined in univariate analysis are shown in Figure 2. Non stricturing, non penetrating disease and IMT within 1 year after ICR were significant protective factors, while penetrating behaviour and ileal location were significant risk factors. In the multivariate logistic regression, only ileal disease (OR 3.07 [1.22;7.72], p = 0.02) was a significant RF. IMT at time of or within one year after first ICR (OR 0.23 [0.07;0.79], p < 0.01) presented as significant protective factors in the logistic regression.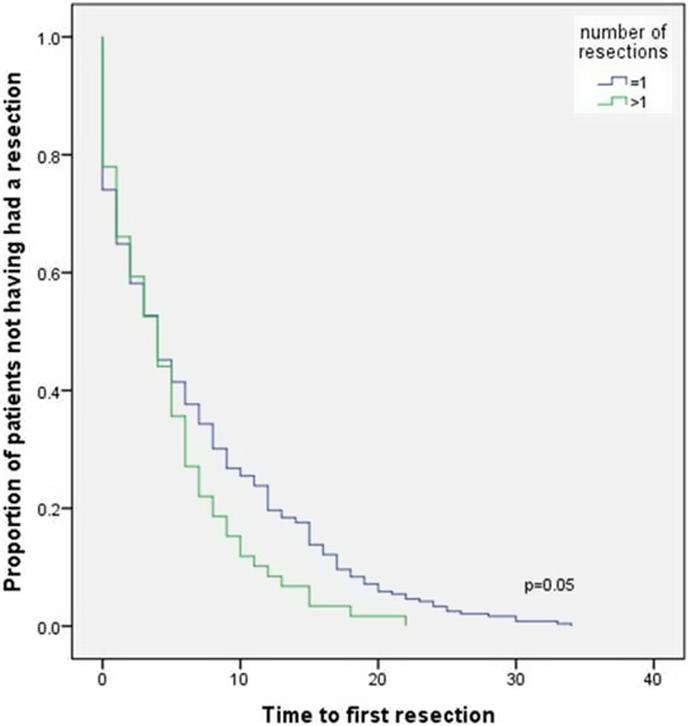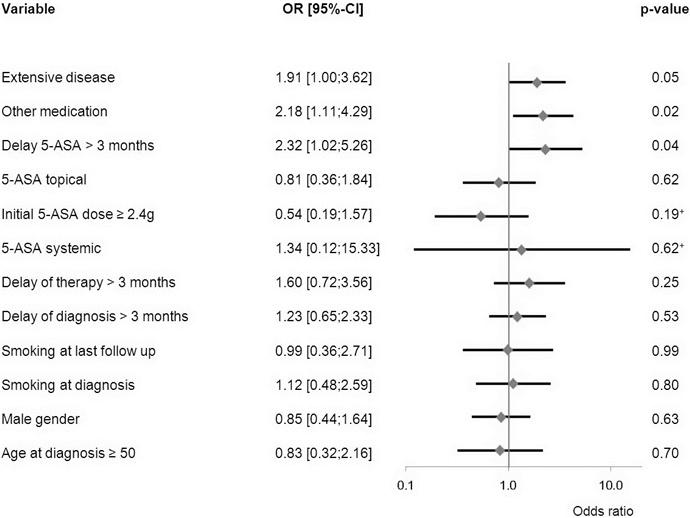 Conclusion
Our data underline the protective impact of an IM after ICR. Additionally, ileal disease constitutes a significant RF for a second ICR.