P153. Risk factors for complications in ulcerative colitis patients
C.N. Manser1, I. Mecklenburg2, C. Knellwolf3, C. Meyenberger3, F. Seibold4, C. Muenger-Beyeler4, L. Biedermann1, S. Vavricka5, P. Frei6, G. Rogler1, 1University Hospital of Zurich, Clinic of Gastroenterology and Hepatology, Zurich, Switzerland, 2University Hospital of Basel, Clinic of Gastroenterology and Hepatology, Basel, Switzerland, 3Cantonal Hospital St. Gallen, Division of Gastroenterology and Hepatology, St.Gallen, Switzerland, 4Tiefenau Spital Bern, Division of Gastroenterology, Bern, Switzerland, 5Triemlispital Zurich, Department of Gastroenterology and Hepatology, Zurich, Switzerland, 6See Spital Horgen, Gastroenterology Unit, Clinic of Internal Medicine, Horgen, Switzerland
Background
Several risk factors (RF) for disease complications in UC patients have been examined. Extensive colitis, anaemia and age at diagnosis have been discussed as RF. However a feasible impact of early diagnosis and treatment on the course of disease has rarely been investigated.
Methods
In the Swiss IBD cohort more than 1000 UC patients have been recruited. Prospective data are only available for 2 years; however, cross-sectional data are available for a longer time period. Patient charts of 328 patients at five centres were reviewed. 190 patients were eligible for analysis. Crude differences with regard to any complication, anemia, osteoporosis, malabsorption, extraintestinal manifestation, primary sclerosing cholangitis, nephrolithiasis and colectomy in relation to age at diagnosis, smoking status, gender, disease extent, delay of diagnosis or therapy, 5-ASA systemic and topical therapy as well as other medication (thiopurines, biologicals) (OM) were assessed using the Pearson χ2 test or Fisher's exact test. A multivariate logistic regression model was performed to identify RF for complications.
Results
In the univariate analysis, RFs for any complication were extensive disease, OM and a delay of 5-ASA therapy >3 months (figure). Subgroup analysis revealed OM as a RF for anemia (OR 2.08 [1.14;3.80], p = 0.02) and extensive disease as a RF for colectomy during follow up (OR 2.52 [1.02;6.37], p = 0.04. Anemia as RF for colectomy was just not significant (OR 2.39 [0.96;5.98], p = 0.06). In the multivariate logistic regression only OM remained a RF for any complication (OR 3.75 [1.48;9.48], p = 0.005). Multivariate logistic subgroup analyses identified anemia as a RF for surgery in UC patients (OR 6.39 [1.02;40.07], p = 0.05), age older than 50 and extensive disease were just not significant (OR 6.17 [0.94;40.43], p = 0.06 and OR 4.7 [0.81;27.43], p = 0.09).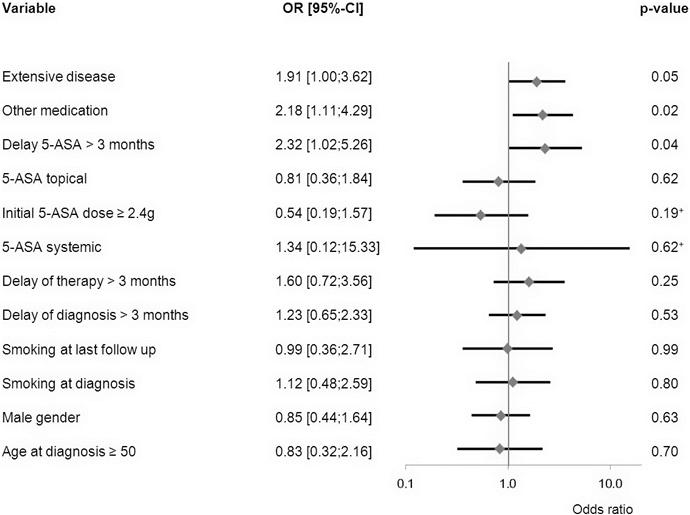 Conclusion
A delay of 5-ASA therapy >3 months should be avoided to decrease risk for any complication. Prompt diagnosis and therapy should be achieved to prevent development of anemia or extensive disease which were RFs for colectomy.