P199. MR-enterography in Crohn's disease – evaluation of diagnostic and clinical impact in routine practice
G. Lang1, V. Nicolas2, L. Kübler2, W. Schmiegel1, T. Brechmann1, 1Ruhr-University-Bochum, Gastroenterology, Bochum, Germany, 2Ruhr-University-Bochum, Radiology, Bochum, Germany
Background
Complete small-bowel visualization is a complex diagnostic approach, but is mandatory for correct risk-stratification and stage-adjusted therapy in patients with Crohn's disease (CD). Direct endoscopy like video capsule endoscopy (VCE) or balloon-assisted-endoscopy are invasive and correlated with a relatively high risk for complications. All current guidelines favour transabdominal sonography and MR-Enterography (MRE)/MR-Enteroclysma (MRY) as methods of choice, although their diagnostic yield and clinical impact are still a highly controversal issue. The aim of this study is to evaluate the diagnostic yield and clinical impact of MRE in CD patients in clinical daily course with a large retrospective analysis.
Methods
In our retrospective monocenter study we collected MRE/MRY findings from 347 patients (188 women) of 45±16 years of age and equilibrated these with results from gastroenterologic and radiologic diagnostic (history, presenting complains, laboratory parameters, sonography, ileocoloscopy, enteroscopy, VCE) and clinical course. MRE/MRY findings were evaluated in terms of sensitivity, specifity, positive and negative predictive value, significant additional diagnostic Information and change in therapy.
Results
In our study MRE/MRY had an average sensitivity and specifity of 70% and 100%, respectively. Average positive and negative predictive values were 100% and 82%. In 43.5% of our collective MRE/MRY findings lead to a relevant diagnostic improvement (for example new process of inflammation, new location of disease, new length of stenosis, new fistula, new extraintestinal manifestation) and partially to a consecutive change in therapy.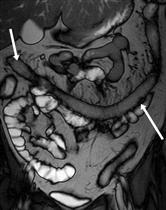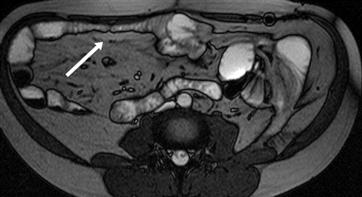 Conclusion
Although recent studies offer higher sensitivities than seen here, MRE/MRY confirmed its role as a powerful and reliable method in context of small-bowel visualisation in CD patients even in daily course. Moreover MRE often establishes significant additional information and is as an excellent tool in risk-stratification of affected patients.