P215. Endoscopic remission (Mayo score 0 rather than score 1) predicts long-term clinical remission in ulcerative colitis
N. Inoue1, K. Takabayashi2, T. Takayama2, K. Matsuoka2, M. Naganuma3, T. Hisamatsu2, Y. Hayashi4, T. Kanai2, H. Ogata3, Y. Iwao1, T. Hibi2, 1Keio University School of Medicine, Center for Preventive Medicine, Tokyo, Japan, 2Keio University School of Medicine, Division of Gastroenterology & Hepatology, Department of Internal Medicine, Tokyo, Japan, 3Keio University School of Medicine, Center for Diagnostic and Therapeutic Endoscopy, Tokyo, Japan, 4Keio University School of Medicine, Department of Pathology, Tokyo, Japan
Background
Recently, mucosal healing (MH) has been addressed in the treatment of ulcerative colitis (UC), especially in the treatment with infliximab. However, definition of MH and whether MH is required for patients with UC regardless of treatment or severity, has not been elucidated. To explore the association of degree of MH with long-term clinical outcome, we performed a retrospective cohort study.
Methods
Among 724 UC patients who underwent colonoscopy between in November 2007 and December 2008 at our hospital, 331 patients in corticosteroid-free clinical remission were enrolled. Demographics, clinical data, endoscopic activity, histological activity and clinical outcome after colonoscopy were collected from medical records. Clinical relapse was defined as 2 or more in 6-point Mayo score at 2 consecutive visits, requirement of remission induction treatment, hospitalization and colectomy. Endoscopic activity was graded according to Mayo endoscopic score by findings of white light images. Association between all variables and clinical relapse was evaluated by univariate and multivariate analyses.
Results
For endoscopic activity, 176 patients (53.2%) were Mayo score 0, 111 (33.5%) were score 1 and 44 (13.3%) were score 2. During follow-up period (mean 39.1 months), 69 patients (20.8%) had clinical relapse. Patients with Mayo score 0 had significantly less clinical relapse (11.4%) compared with those with endoscopic score 1 (29.7%) or those with score 2 (36.4%) (p < 0.001). Univariate analyses demonstrated that severity of last flare, remission induction treatment, duration of remission and histological activity were also significantly correlated with clinical relapse. Cox regression analysis demonstrated that endoscopic activity was significantly associated with clinical relapse. Hazard ratio of score 1 was 2.04 to score 0 (p = 0.021) but that of score 2 was 1.07 to score 1 (not significant). Finally, the Kaplan–Meier estimate of non-relapse rate in Mayo score 0 group was significantly higher than that in score 1 or 2 group (p < 0.001).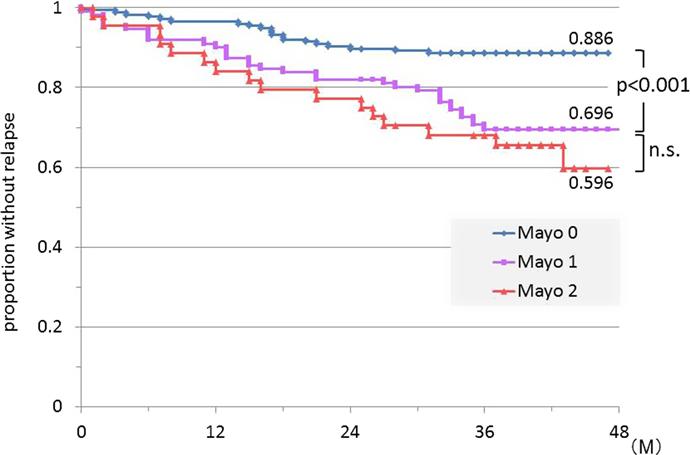 Conclusion
The present study demonstrated that endoscopic remission (Mayo score 0, not including score 1) was associated with long-term clinical remission in UC.