P223. Improved work productivity in caregivers of pediatric patients with Crohn's disease treated with adalimumab
F.M. Ruemmele1, W. Crandall2, J.C. Escher3, G. Veereman-Wauters4, A. Lazar5, M. Skup5, M. Yang5, P.M. Mulani5, J. Chao5, R. Thakkar5, J. Hyams6, 1Hôpital Necker-Enfants Malades, Paris, France, 2Nationwide Children's Hospital, Columbus, OH, United States, 3Erasmus MC-Sophia Children's Hospital, Rotterdam, Netherlands, 4UZ Brussels, Brussels, Belgium, 5Abbott Laboratories, Abbott Park, IL, United States, 6Connecticut Children's Medical Center, Hartford, CT, United States
Background
Adalimumab (ADA) can induce response and remission in children with moderate/severe Crohn's disease (CD). We assessed the effect of ADA on ability to work and perform regular activities in the caregivers of pediatric patients (pts) with CD.
Methods
IMAgINE 1 was a 52-week (wk), randomized study assessing efficacy and safety of ADA in children with moderate to severe CD failing prior therapy, including infliximab. After a 4 wk open-label induction, 188 pts aged 6–17 years were randomized 1:1 to standard dose (20 mg, bodyweight [BW] <40 kg, or 40 mg, BW ≥40 kg; N = 93) or low dose (10 mg, BW <40 kg, or 20 mg, BW ≥40 kg; N = 95) double-blind ADA every other wk. Pts with flare/nonresponse could switch to blinded weekly dosing or standard dose open label therapy after wk 12. Caregivers completed the 4-domain Work Productivity and Activity Impairment questionnaire for CD (WPAI-CD) at each visit to assess the effect of the pts' CD on work productivity and daily activity (0%=none; 100%=severe). A 7% absolute change in WPAI-CD domain has been described as the minimum clinically important difference (MCID). Paired t-tests assessed within-group changes from baseline for each domain. Between-group differences in change from baseline were assessed using ANCOVA, adjusting for anti-TNF exposure, wk 4 response, and baseline WPAI-CD domain. Last-observation-carried-forward was used for pts who discontinued or dose escalated.
Results
At baseline, caregivers of standard dose pts were more impaired in each domain: presenteeism (40.9% vs. 28.7%, P = 0.01), work impairment (47.0% vs. 36.7%, P = 0.05), absenteeism (15.4% vs. 10.3%, P = 0.19), and activity impairment (44.8% vs. 34.7%, P = 0.02). Caregivers of pts in both groups demonstrated improvements in presenteeism, work impairment, and activity impairment at all time points compared with baseline (figure). Improvements were generally larger in anti-TNF naïve patients and early responders. Following randomizing at wk 4, no differences between dose groups were observed in change from baseline.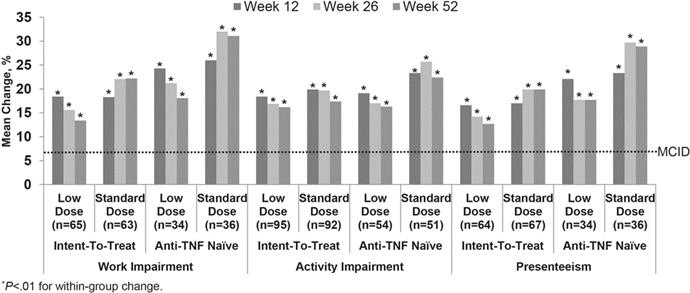 Conclusion
ADA treatment was associated with improved work productivity and activity impairment in caregivers of pediatric pts with CD.