P250. Elevated faecal calprotectin predicts disease progression in Crohn's disease
N.A. Kennedy1, J. Chang2, M.H. Guy2, T. Smith2, J.T. Loh2, D. Haunschmidt2, M. Muscat2, F. Fascí Spurio2, H.E. Drummond1, K. Kingstone3, C.L. Noble2, A.G. Shand2, J. Satsangi1, I.D. Arnott2, C.W. Lees2, 1Western General Hospital, Gastointestinal Unit, Molecular Medicine Centre, Edinburgh, United Kingdom, 2Western General Hospital, Department of Gastroenterology, Edinburgh, United Kingdom, 3Western General Hospital, Department of Clinical Biochemistry, Edinburgh, United Kingdom
Background
Historical cohort studies have clearly demonstrated that over time the majority of patients with Crohn's disease (CD) will progress from inflammatory (B1) to stricturing (B2) or fistulating (B3) disease. Emerging data suggest that more intensive treatment targeted towards mucosal healing will help to prevent disease progression. Faecal calprotectin (FC) is an established surrogate biomarker for endoscopic mucosal healing. It has yet to be established whether tailoring therapy to FC levels prevents disease progression. In the present study we aimed to determine whether FC levels in patients with established CD were predictive of disease progression.
Methods
The Edinburgh Faecal Calprotectin Registry (EFCR) comprises data on 22,130 FC assays in 16,278 patients from 2005–2012. Detailed phenotypic information was obtained on patients with CD by retrospective casenote review. Data collected included demographics, disease location, disease behaviour over time, CD-related surgery, investigations, hospitalisations and drug therapy. Patients were included in the main analysis if they had at least 12 months' follow-up since first FC. The a priori primary endpoint was a composite of progression in Montreal luminal behaviour, hospitalisation for flare and resectional surgery.
Results
There were 801 CD patients identified with at least one FC, of which 650 had at least one year's follow-up, representing 28,121 patient-months of follow-up. The median age was 28y (IQR 20–42) at diagnosis and 40y (28–53) at time of first FC.
211 patients reached the primary endpoint, of whom 57 had had progression of their Montreal behaviour from B1 to B2 or B3, or from B2 to B3.
The median of the earliest FC was significantly higher in the group that reached the primary endpoint at 595 µg/g (IQR 210–1246) vs. 320 (80–992) in those that did not (p < 0.0001). Survival analysis (Figure 1) revealed significant differences in time to progression, hospitalisation or surgery with calprotectin ≥200 (p < 0.0001).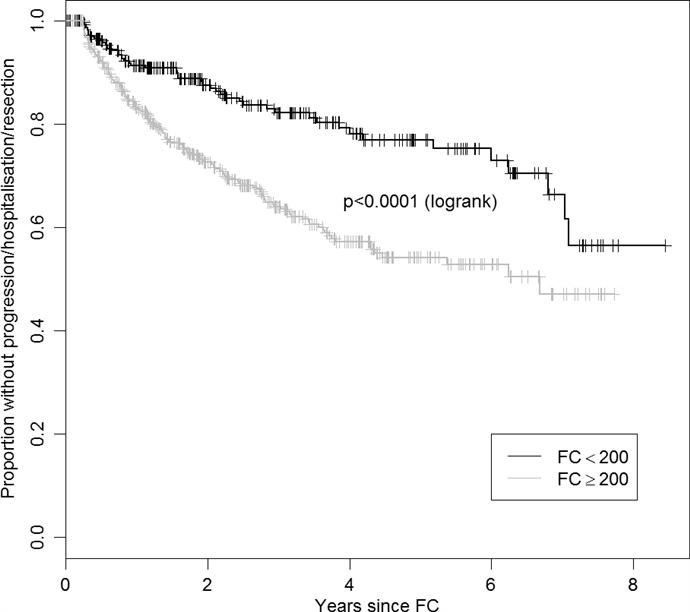 Conclusion
This large single-centre study presents compelling evidence that measurement of FC can be used to predict disease course, which creates the opportunity for physicians to intervene earlier and perhaps alter the disease course.