P267. Correlation between the Ulcerative Colitis Endoscopic Index of Severity (UCEIS) and outcomes in acute severe ulcerative colitis
C. Corte1, N. Fernandopulle1, A. Catuneanu1, D. Burger1, M. Cesarini1, S. Keshav1, S. Travis1, 1John Radcliffe Hospital, Gastroenterology, Oxford, United Kingdom
Background
Up to 25% patients with UC are hospitalised with acute severe colitis (ASC). Predictors of outcome and colectomy include clinical and laboratory features (e.g. Truelove–Witts (TW) criteria on admission, or 3 day index) and endoscopic features (deep ulcers). The UCEIS is the only validated index, accounting for 88% of variance between observers in the overall assessment of endoscopic severity, but has not been correlated with outcomes.
Methods
Consecutive cases of ASC defined by TW criteria admitted to a single centre between July 2010 and October 2012 were reviewed. Demographic details, number of additional TW criteria on admission, prior medical therapy, UCEIS and inpatient medical therapy were recorded. Adverse outcome data included colectomy, readmission and death. Chart review was performed by two gastroenterologists with discrepancies resolved by discussion with the senior author.
Results
Of 89 patients, 48 (54%) male, mean age 38 years, 3/89 did not undergo flexible sigmoidoscopy within two weeks of admission. All received intravenous hydrocortisone 400 mg/d (median 5 days [range 1–11]). Median follow up was 13 months (1–28). 48 (54%) were diagnosed within the year prior to, or at admission. 36 (40%) required rescue therapy infliximab (IFX) 25/36, ciclosporin (CsA) 12/36). 21/89 (24%) came to colectomy on the index admission (9/21) or during follow-up (12/21). Median UCEIS was 5/8 (3–8), within a median 1 day (0–14) of admission. UCEIS was higher in patients requiring rescue therapy or colectomy (median 6/8 (range 4–8) vs 5/8 (3–8), both p < 0.005). For a UCEIS ≥5/8, 27/54 (50%) required rescue therapy, compared to 9/33 (27%) for UCEIS ≤4 (p = 0.037). When UCEIS was ≥5/8, 18/54 (33%) came to colectomy during follow-up, compared to 3/33 (9%) with UCEIS ≤4. Of 14 patients with a UCEIS 7 or 8/8, 11/14 needed rescue therapy.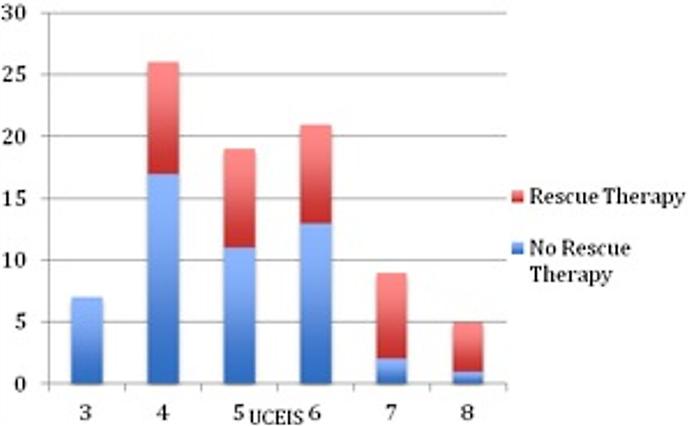 Conclusion
It is not surprising that endoscopic severity is associated with a worse outcome in ASC. When the UCEIS is ≥7/8 on admission, almost all patients will need treatment with IFX or CsA beyond steroids. This may mark a threshold for an early decision to use IFX or CsA.