P271. Colonoscopy and colon capsule endoscopy in inflammatory large bowel diseases: concordant or discordant results, alternative or complementary methods?
A.-M. Singeap1, A. Trifan1, C. Cojocariu1, C. Sfarti1, C. Stanciu1, 1University of Medicine and Pharmacy Gr. T. Popa, Gastroenterology, Iasi, Romania
Background
Capsule endoscopy (CE) is a non-invasive investigation method with proven diagnostic yield for the small bowel pathology; its role in the evaluation of the large bowel is still under debate. Inflammatory bowel diseases (positive and differential diagnosis, extension) are an actual challenge for the use of the colon CE.
Methods
The aim was to appreciate the diagnostic role of the colon CE in chronic inflammatory large bowel diseases, in relation to colonoscopy. We analyzed 15 patients with colonic Crohn's disease, ulcerative colitis or unclassified colitis who had been evaluated by colonoscopy and after that by colon CE. We analyzed the macroscopical descriptive accuracy of the lesions showed by the capsule in relation to colonoscopy and the additional diagnostic data brought by capsule in support of either the initial diagnosis or an alternative one.
Results
The capsule results were consistent with colonoscopy for 6 of the 10 patients with full colonoscopy, the capsule describing similarly the type, size and location of lesions; for 2 patients, the capsule wasn't conclusive (low visibility or stagnation in the caecum); for the 2 patients with full colonoscopy and unclassified colitis, the capsule was contributive: one patient had no small bowel lesions (the diagnosis being ulcerative pancolitis) and the other had Crohn's small bowel lesions. Among the 5 patients with partial colonoscopy, capsule sustained the same diagnosis of ulcerative colitis for three of them (showing the precise extension), and two patients presented additional lesions suggesting colonic Crohn's (aftae, ulcers).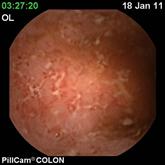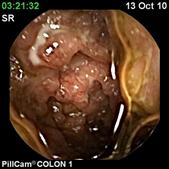 Conclusion
Colon CE showed consistent results with colonoscopy, under the conditions of good visualization and a full colonoscopy; apparently discordant results may appear after incomplete colonoscopy or poor visualization of the capsule. CE could be considered a complementary method of investigating the large bowel.