P356. The natural history of systemic corticosteroid therapy in ulcerative colitis: a nationwide, retrospective cohort from the Veterans Affairs healthcare system
N. Khan1, A. Abbas2, A. Williamson2, L. Balart2, 1Southeast Louisiana Veterans Health Care System, Gastroenterology, New Orleans, United States, 2Tulane University, Gastroenterology, New Orleans, United States
Background
Data on the natural history of Ulcerative Colitis (UC) after corticosteroid (CS) therapy is limited. Our aim was to assess the pharmacological and clinical outcomes over a three-year observational period after the index steroid exposure in patients with UC.
Methods
Nationwide data was obtained from the Veterans Affairs (VA) healthcare system. UC patients followed in the VA between 2001 and 2011 were identified using ICD9 codes. To increase the specificity UC diagnosis, all the included patients needed to have 5Aminosalicylate exposure during the observation period. Patients needed to have prednisone dispensed prior to 2008 in order to have a follow-up of 3 year. We captured the index oral prednisone dispense date and during the three year observational period we tracked their prednisone, thiopurines, infliximab dispense activity and the need for colectomy. Our primary aim was to assess the disease activity patterns after the first CS use based upon steroid use. Patients were classified as "sustained response" if they had no CS filling activity for at least a year towards the end of the observation period. This could achieved either "early" if the cessation happens within 6 months of CS initiation or "late" if it took longer than six months. Those who dispensed CS episodically were classified as "relapsers". These could be either "high frequency" if there was less than six months or "low frequency" if there was at least a year of CS free interval. Those who continued dispensing CS were classified as steroid dependent.
Results
We identified 22,762 UC patients in the VA system. Of these 6,210 met our inclusion criteria. We identified five patterns of steroid use after index CS course among those who didn't require colectomy (Figure).
The cumulative probability of thiopurines use by the end of the follow up period was 34.5% and infliximab was 1.8%. The cumulative probability of receiving colectomy by the end of follow up period was 6.4%.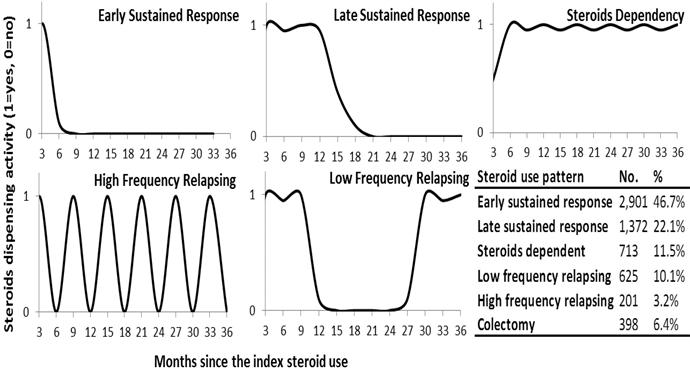 Conclusion
Among patients exposed to steroids approximately half will be able to stop CS. The other half will either require long term CS use, treatment with a thiopurine or a colectomy. Colectomy rate was lower than previously reported.