P390. Re-introduction of infliximab after consecutive failure of infliximab and adalimumab is beneficial in refractory Crohn's disease
J.F. Brandse1, C.P. Peters1, E.J. Eshuis1, M. Lowenberg1, C.Y. Ponsioen1, G.R. van den Brink1, G.R.A.M. D'Haens1, 1Academic Medical Center, Gastroenterology and Hepatology, Amsterdam, Netherlands
Background
In the last decade, Infliximab (IFX) and Adalimumab (ADA) have dramatically improved the management of steroid refractory Crohn's disease (CD). In clinical practice a considerable group of patients are switched from one agent to the other because of failure, intolerance and patient preference. There are no data regarding the long term clinical response of re-exposure to IFX in patients who sequentially used and discontinued IFX and ADA. Therefore we retrospectively assessed clinical response to IFX in CD patients that failed subsequently IFX and ADA and were re-exposed to IFX.
Methods
For this survey we used a multicenter North-Holland cohort of 438 CD patients treated with ADA. Twenty-nine of these had previously been treated with IFX and received a second IFX treatment after failing ADA. Short-term and prolonged response to IFX was assessed retrospectively by reviewing clinical records.
Results
29 patients (62% luminal CD, 7% fistulising CD, 31% both) from 8 hospitals were included with complete follow-up data up to 18 months. IFX was re-started at 5 mg/kg in 20/39 (69%), 7.5 mg/kg in 1 patient and at 10 mg/kg in 8/29 (28%), at intervals varying between 4 and 8 weeks. Dose escalation was done in 8/29 (28%) of patients during retreatment with IFX.
Twenty patients (69%) were on concomitant immune modulators at the re-introduction of IFX and 3 (10%) patients experienced adverse events: acute infusion reaction (n = 2, 7%) and delayed hypersensitivity reaction (n = 1, 3%).
Clinical outcome is shown in Figure 1.
20/29 (69%) patients were still on continued Infliximab therapy after 18 months.
Reasons for discontinuing the second Infliximab therapy included: non-response (n = 2, 7%), loss of response (n = 3, 10%), intolerance (n = 3, 10%) or non-compliance (n = 1, 3%).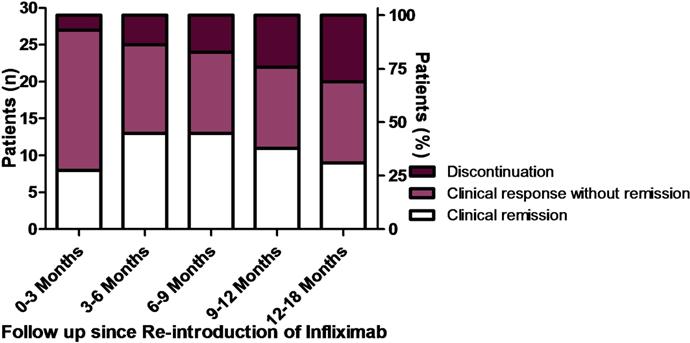 Conclusion
The majority of CD patients, failing prior treatment with IFX and ADA, benefit from re-introduction of Infliximab for at least 18 months. Only a small proportion of 9 patients failed on retreatment with IFX.
Retreatment with Infliximab is to be considered a valuable strategy in this group of refractory CD patients.