P404. Predictors of long-term relapse-free and colectomy-free survival in patients with ulcerative colitis treated with infliximab
M. Ferrante1, M.T. Arias1, S. Vermeire1, M. Noman1, G. Van Assche1, A. Wolthuis2, A. De Buck Van Overstraeten2, V. Ballet1, A. Gils3, I. Hoffman4, A. D'Hoore2, P. Rutgeerts1, 1University Hospitals Leuven, Department of Gastroenterology, Leuven, Belgium, 2University Hospitals Leuven, Department of Abdominal Surgery, Leuven, Belgium, 3University Hospitals Leuven, Department of Pharmaceutical Biology, Leuven, Belgium, 4University Hospitals Leuven, Department of Paediatric Gastroenterology, Leuven, Belgium
Background
Infliximab (IFX) is efficacious for the treatment of moderate to severe ulcerative colitis (UC), but long-term data are scarce.
Methods
We report on the long-term efficacy of IFX in a consecutive cohort of 277 patients with refractory UC (median age 39 years, 41% female, 13% IV steroid-refractory UC). At inclusion, 71% of patients were on mesalamine and 46% on systemic corticosteroids (CS), while 57% received an immunomodulator (IMM) during IFX induction. Furthermore, 10% were active smokers, 66% had extensive colitis and 51% a Mayo endoscopic sub-score of 3. At baseline, 53% were anemic, 55% had CRP >5 mg/L, 20% albumin <35 g/L and 53% were pANCA+. Cox regression analysis was performed to identify independent predictors of long-term outcome.
Results
Short-term clinical response was observed in 208 patients (75%) of whom 129 patients showed complete absence of diarrhoea and blood. From 208 clinical responders, 131 (63%) developed a relapse during a median follow-up of 61 months. Independent predictors of relapse-free survival were combined use of IMM during IFX induction [Odds ratio 1.47 (95% CI 1.04–2.08), p = 0.031] and short-term complete clinical response [3.30 (2.33–4.67), p < 0.001]. IFX dose optimization was performed in 100 patients (76%) and was successful in half of them. During a median follow-up of 65 months, 56 of the 277 patients (20%) needed colectomy (Figure). Independent predictors of colectomy-free survival were short-term clinical response [11.23 (5.71–21.74), p < 0.001], a baseline CRP ≤5 mg/L [2.50 (1.22–5.26), p = 0.012] and a baseline albumin ≥35 g/L [2.33 (1.12–3.23), p = 0.024]. Nine out of 37 patients (24%) with IV steroid-refractory UC required colectomy. During IFX therapy, 99 of 127 patients under CS at baseline (78%) could definitively stop CS. Furthermore, 17 infectious adverse events necessitating hospitalization occurred. Throughout follow-up, 20 patients developed a malignancy and 10 patients died. Short- and long-term post-operative complications were observed in 53% and 58%, respectively.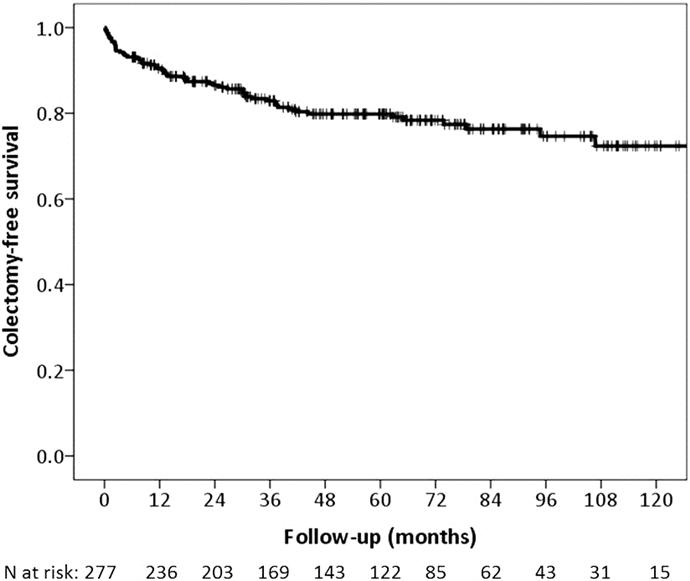 Conclusion
With a median follow-up of 65 months, 20% of 277 patients treated with IFX for refractory UC needed colectomy. Short-term clinical response, normal baseline CRP and normal baseline albumin were independently associated with colectomy-free survival.