P414. Perianal mucinous adenocarcinoma arising from a fistulous tract in Crohn's disease
E. Krauss1, A. Agaimy2, H. Albrecht3, W. Hohenberger4, M. Neurath1, K. Matzel4, J. Mudter1, 1University of Erlangen-Nuremberg, Department of Medicine 1, Erlangen, Germany, 2University of Erlangen-Nuremberg, Institute of Pathology, Erlangen, Germany, 3University of Erlangen-Nuremberg, Department of Medicine 1, D-91054 Erlangen, Germany, 4University of Erlangen-Nuremberg, Department of Abdominal Surgery, Erlangen, Germany
Background
An increased risk of cancer in patients with perianal Crohn's disease (CD) has been shown to be related to an early onset and a prolonged duration of the IBD.
Methods
The 44-year old female, who had CD diagnosed in 1991 came to our clinic for the first time in 08/2008 having azathioprine 100 mg/day, 5-ASA 2g/day, prednisolone 20 mg/day since 4 weeks. After performing colonoscopy and evaluation of fistulae and possible stenosis using ultrasound and MRI-scan, we started the therapy with adalimumab; azathioprine was continued in elevated dose of 125 mg/day. The colonoscopy diagnosed rectum stenosis; the patient underwent regular endoscopic dilations till 12/2010.
Results
In 01/2010 the patient complained about painful stool and rectal bleeding. Lab tests showed an anemia with elevated CRP rate and a reduced serum albumin. 2 weeks later the patient was seen again because of additional purulent secret transanal. She underwent MRI scan, where both vaginal transcutaneous and anal transsphinktar fistulas and abscess were described without sign of malignancy. Patient received local excision of vaginal and transsphinktar fistulas, abscess draining. The rectoscopy did not show any signs of inflammation or malignancy. In 07/2010 she was admitted again because of painful defecation and fistulas. The peritoneal adhaesiolysis, vaginal and omental plasty had to be performed this time. Histopathology showed the mucinous adenocarcinoma in the anal stenosis. pT4b pN0 L0 V0 Pn0 G2R1. Upon diagnosis, a second intervention was performed including the radical lymphadenectomy, rectum and sphincter extirpation. The radiation and chemotherapy followed. Following MRI-Scans did not display any signs of carcinoma recurrence as of today.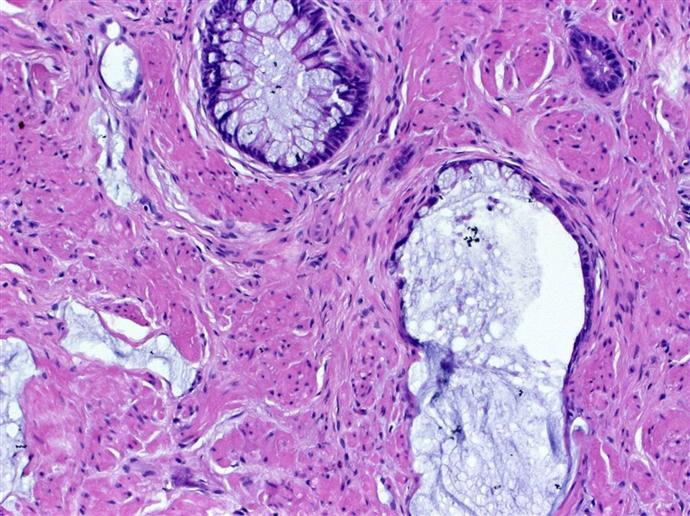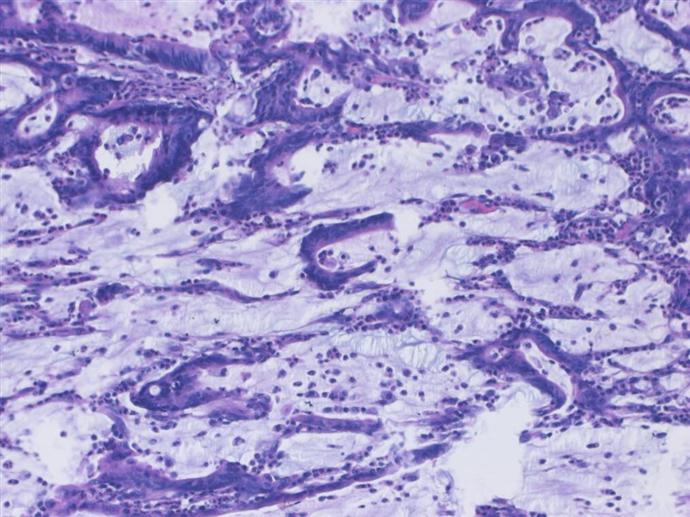 Conclusion
We present a case of mucinous adenocarcinoma of a fistula tract thus to make surgeons and gastroenterologists aware of the cancer risk in patients with perianal CD.
1. Mpofu C, Watson AJ, Rhodes JM, (2004), Strategies for detecting colon cancer and/or dysplasia in patients with inflammatory bowel disease. Cochrane Database Syst Rev.
2. Moore-Maxwell CA, Robboy SJ, (2004), Mucinous adenocarcinoma arising in rectovaginal fistulas associated with Crohn's disease. Gynecologic Oncology.
3. Sjodahl RI, Myrelid P, Soderholm JD, (2003), Anal and rectal cancer in Crohn's disease, Colorectal Dis 5:490–495.