P455. Lessons learnt from the design and implementation of a web-based intervention to support self-management in inflammatory bowel disease (IBD)
C. Calvert1, S. Lal2, C. Stansfield2, J. McLaughlin1, A. Robinson2, 1Manchester University, School of Translational Medicine, Manchester, United Kingdom, 2Salford Royal Foundation Trust, Gastroenterology, Salford, United Kingdom
Background
Engaging and empowering patients to have greater involvement in their care is central to the vision of many governmental health policies. It is widely recognised that facilitating self-management for patients' by providing information to support understanding, share decision-making and motivating behavioural change, can lead to significant improved health outcomes. We describe the development of a web-based IBD patient portal.
Methods
A mixed-method approach to the design and evaluation has been implemented with close patient and provider involvement. Using both the theoretical framework of self-efficacy, engaging key stakeholders and studying the processes of care delivery, we have developed an integrated IBD portal.
Results
'My IBD Portal' provides online access via a secure login and contains an individual summary of patients' IBD, clinic letters and latest test results. Components known to further enhance self-management are included with electronic self-monitoring of symptoms, decision support tools and secure messaging. Personal care planning and an electronic food diary have been provided. Throughout the site personalised and trusted information links are integrated.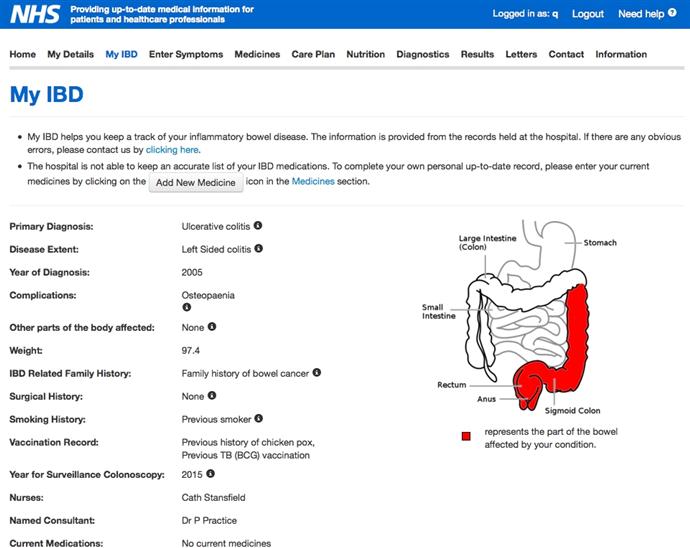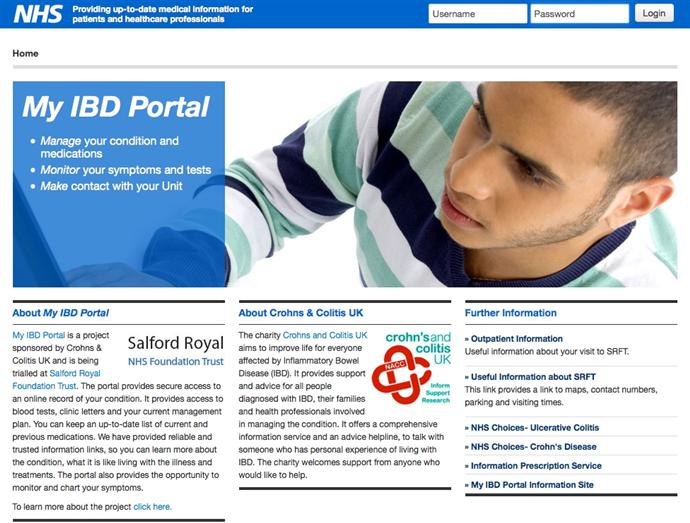 Conclusion
Design and implementation of web-based systems in the healthcare setting is complex with a number of human, technological and organisational factors. These need to be considered from the start of the concept. Stakeholder involvement is essential throughout the design process. Web-based interventions are complex in nature and thus evaluation requires careful consideration. The MRC framework provides a useful resource to develop a systematic process to evaluate such technologies [1]. Our aim has been to develop a web-based IBD portal that can be easily managed and is sustainable for future use in routine clinical practice. We are currently evaluating its effectiveness in a formal trial setting.
1. Anderson, R., (2008), New MRC guidance on evaluating complex interventions., BMJ, p. a1937, 337.