P468. Incidence rate of lymphoma by the cumulative duration of exposure to thiopurines: a nationwide retrospective cohort from the Veterans Affairs healthcare system
A. Abbas1, Y. Koleva2, N. Khan2, 1Tulane University, Gastroenterology, New Orleans, United States, 2Southeast Louisiana Veterans Health Care System, Gastroenterology, New Orleans, United States
Background
Thiopurine treatment is associated with increased risk of lymphoma. It is unknown if this risk is related the duration of exposure to thiopurines. The aim of this study is to identify incidence rate of lymphoma by the cumulative duration of thiopurines exposure.
Methods
Ulcerative colitis (UC) patients followed-up in the Veterans Affairs (VA) healthcare system between October, 1st, 2001 and October, 1st, 2011 were identified using ICD9 codes. We used retrospective cohort study design. Patients were followed from the index date of UC diagnosis in the VA system to the date of lymphoma diagnosis or October, 1st, 2011. Cumulative duration of thiopurines exposure during the follow-up was calculated using pharmacy records. Lymphoma cases were firstly identified by ICD9 codes then by manual chart review to confirm the diagnoses and the dates. Person-year contribution was calculated for the included patients and the incidence rate of lymphoma was calculated for non-thiopurines users and by each year of cumulative thiopurine use. Univariate hazard ratios (HR) were calculated comparing the incidence rate of lymphoma by year of thiopurines use against the incidence rate among unexposed group.
Results
We included 36,891 patients in the analysis, median follow-up of 6.7 years. Total person-year of follow-up analyzed was 199,204. Majority were Caucasians (75%), males (93%) with median age at inclusion of 60 years. Among the included patients, 4,734 used thiopurines with median duration of one year. Numbers of lymphoma cases identified were 119 and 18 among non-users and while using thiopurines respectively. The incidence rate of lymphoma among those who never used thiopurines was 0.6 compared to 0.9, 1.6, 1.6, 5, 8.9 per 1000 person-year for the 1st, 2nd, 3th, 4th and >4 years of thiopurine use respectively (Figure).
The incidence rates of the fourth and more than four years were statistically different from the incidence rate of non-users, yielding HR of lymphoma of 8 and 14 for the fourth year and more than four year of thiopurines use respectively (p < 0.001).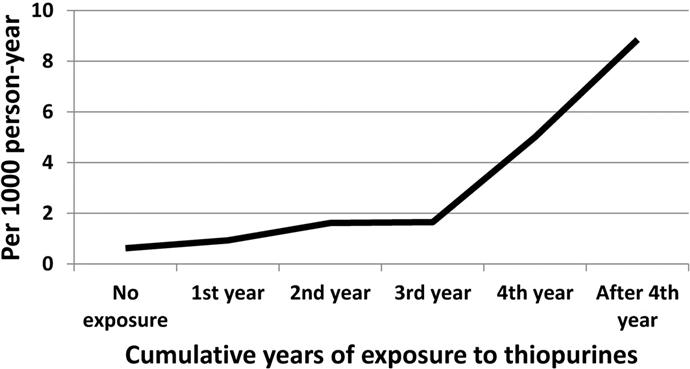 Conclusion
In this nationwide cohort of UC patients, the incidence rate of lymphoma significantly increased after the third year of cumulative exposure to thiopurines.