P479. In carefully selected ulcerative colitis patients the failure rate after ileorectal anastomosis does not seem to differ from ileal-pouch anal anastomosis
P. Myrelid1, R. Norblad2, J.D. Söderholm2, P. Andersson2, 1Linköping University Hospital, Dept of Surgery, Linköping, Sweden, 2Linköping University Hospital, Dept of Surgery, Colorectal Unit, Linköping, Sweden
Background
Ileal pouch anal anastomosis (IPAA) is the standard reconstructive procedure after colectomy for ulcerative colitis (UC). However, ileorectal anastomosis (IRA) is an option in some patients and is considered to be technically less demanding, avoids pelvic dissection with risk for pelvic nerve injuries and possibly have less impact on fecundability. A major drawback is a persisting risk for dysplasia or cancer necessitating regular endoscopic monitoring.
Methods
Linköping University Hospital is a tertiary referral center for patients with inflammatory bowel disease. From 1992 to 2006 253 patients had their bowel continuity re-established after colectomy because of UC. One-hundred and five had an IRA (35 women; median age 31, 10–75 years) and 148 (53 women; 35.5, 13–65) had an IPAA. Time for follow-up (median) was 4.5 (0.2–15 years) and 5.5 (0.2–16) respectively. Failure was analysed according to Kaplan–Meier and complications according to Chi-square when appropriate.
Results
Estimated cumulative failure-rates for IRA were 10.1% and 24.1% after five and ten years. Corresponding figures for IPAA were 6.4% and 18.6% (ns). The most common cause for failure was proctitis and unspecified dysfunction respectively. Two cases of rectal cancer and one case of cancer in the ileoanal cuff were registered. Major postoperative complications occurred in 11.4% and minor in 12.3% after IRA including closure of a defunctioning loop-ileostomy when present. Corresponding figures for IPAA were 16.2% and 23.6% (ns and p = 0.02 respectively). Any complication after IRA and IPAA including stoma closure occurred in 23.8% and 39.8% respectively (p < 0.01). Morbidity during follow-up time calculated as patients with any late complication requiring laparotomy was for primary catchment area patients with IRA (n = 73) and with IPAA (n = 68) 11% and 18% respectively (ns).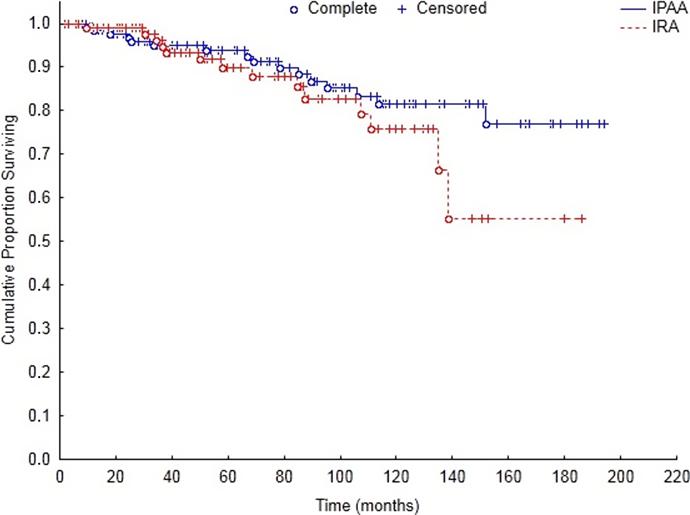 Conclusion
After careful selection of ulcerative colitis patients suitable for IRA their failure rate does not significantly differ from that for patients operated with IPAA. Patients operated with IPAA had more postoperative complications than those operated with IRA but morbidity in the long run did not differ. In our limited cohort two cases of rectal cancer occurred after IRA and one case of cancer in the ileo-anal cuff after IPAA.