P501. Fecal calprotectin in monitoring active ulcerative colitis
K. Theede1, M. Kiszka-Kanowitz1, I. Nordgaard-Lassen1, 1Copenhagen University Hospital Hvidovre, Gastrounit, Medical Section, Hvidovre, Denmark
Background
Fecal calprotectin (FC) is a reliable marker of gut inflammation and has proven useful in the monitoring of active inflammatory bowel disease. In this trial we studied whether repeated measurements of FC during the first days of steroid treatment in moderate to severe active ulcerative colitis (UC) could be used as a marker for treatment response.
Methods
17 patients with moderate to severe UC requiring treatment with steroids were included. 14 patients required in-patient therapy. FC was measured on the day of treatment initiation and on day 2, 4 and 6. In addition, blood samples were analyzed for haemoglobin, albumin, leucocytes and C-reactive protein (CRP). Symptoms were measured using Simple Clinical Colitis Activity Index (SCCAI).
Results
16 patients (94%) responded to the steroid therapy. 1 patient (6%) did not respond and underwent colectomy. In the first 4 days, of the patients that responded to the treatment, 94% had decreasing levels of FC (median −1014 g/kg, p = 0.0061) and SCCAI (median −3, p = 0.0002) and 66% had decreasing CRP (median −10 mmol/l, p = 0.0313). No significant changes in haemoglobin, albumin or leucocytes were observed. We found a significant correlation between ΔCRP and ΔSCCAI (rs = 0.65, p = 0.03), but not between ΔFC and ΔSCCAI (rs = −0.06, p = 0.83) or ΔFC and ΔCRP (rs = 0.56, p = 0.12).
The patient that did not respond to the therapy, and underwent colectomy, had rapidly increasing levels of FC, but not SCCAI or CRP.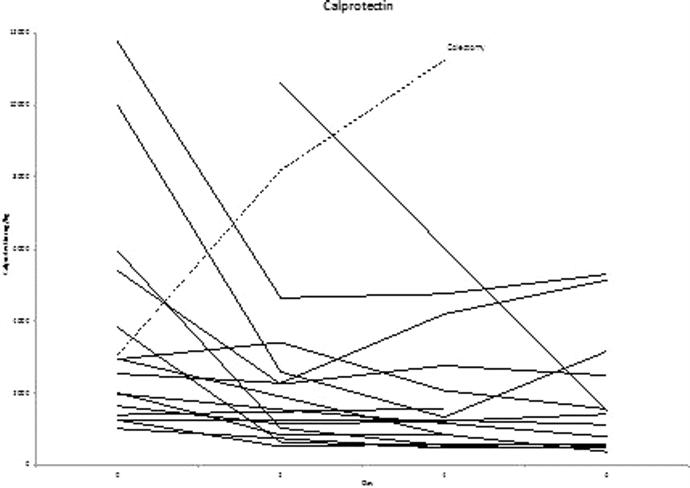 Conclusion
We have shown that FC decreases significantly and appears to be a valuable marker of disease activity and treatment response during the first important days of therapy, but the change in FC does not appear to correlate to neither symptoms nor CRP. In the patient that underwent colectomy, FC was the only marker that reflected steroid non-response.
In moderate to severe active ulcerative colitis it is particularly important to monitor the treatment response during the first days. This is to determine whether the patient fully responds to the steroid therapy or whether rescue therapy with anti-TNFs or colectomy is required. Endoscopy is not expected to reveal any difference in mucosal appearance in these few days. Results from this study show that FC might be helpful in monitoring active UC during the first days of steroid therapy.