P611. "An old and inexpensive drug to minimize the side effects of a new and expensive one": Colchicine for the skin lesions induced by the tumor necrosis factor-alpha inhibitors, a case-series study
J.M. Mella1, R. Gonzalez1, B. Vizcaino1, G. Casas1, M. Larralde1, S.C. Pedreira1, L. Boerr1, 1Hospital Aleman, Buenos Aires, Argentina
Background
Anti-tumor necrosis factor (TNF) antibodies (infliximab and adalimumab) represent the major biological therapy for inflammatory bowel diseases (IBD). These drugs induced dermatologic side effects. Our aims were to report a case series of patients with anti-TNF inhibitors-induced skin lesions during therapy for IBD, and to emphasize the usefulness of an old-fashion and inexpensive drug, colchicine, to adequately control this phenomenon.
Methods
Patients with IBD treated with anti-TNF drugs, who consulted at our Gastrointestinal Unit from January 2010 to June 2012, who presented with skin lesions as side effects of the biological therapy were included. All patients were seen by a Dermatologist and skin biopsies were performed.
Results
In this period, 43 patients with IBD were treated with biological therapy (29 patients with infliximab and 14 with adalimumab), accounting an incidence of 6.9% for biological therapy-induced skin lesions. We report 3 patients with IBD and biological therapy-induced skin lesions who were treated with colchicine with an excellent response. The characteristic of the patients and the biological therapies received are described in Table 1. All the patients presented with psoriasis-like skin lesions. The histopathological examinations of the skin biopsies showed findings compatible with pharmacodermia in patient #1 and psoriasis-like in patients #2 and #3.
The doses of colchicine used were 1 mg/day. The skin lesions gradually disappeared and a complete resolution of the lesions was observed after 3–6 months of treatment. The mean follow-up was 14 months. No recurrences were observed.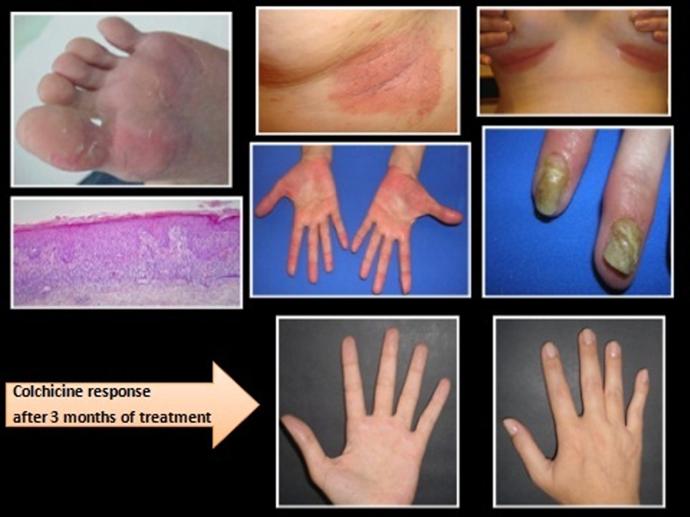 Table 1
Characteristic
Patient #1
Patient #2
Patient #2
Gender
Female
Female
Female
Age (years)
68
40
42
IBD type
Crohn's disease
Crohn's disease
Crohn's disease
Biological therapy drug and duration (months)
Adalimumab (2)
Infliximab (1.5)
Adalimumab (1)
Reason for receiving biological therapy
Crohn's disease refractory
Seronegative arthritis
Seronegative arthritis, ankylosing spondylitis
Skin lesion type
Psoriasis-like skin lesions (Erythema multiforme)
Psoriasis-like skin lesions
Psoriasis-like skin lesions
Management of this side effect
Suspension of biological therapy. Oral steroids (without improvement)
Suspension of biological therapy
Suspension of biological therapy
Colchicine (dose and duration of treatment)
1 mg/day for 4 months
1 mg/day for 6 months
1 mg/day for 3 months
Follow-up (months)
18
12
12
Conclusion
Colchicine is a safe, inexpensive and useful anti-inflammatory drug to minimize the skin lesions (side effects) induced by TNF alpha inhibitors.