P617. Urinary metabolic profiling of inflammatory bowel disease in a South Asian cohort
L. Hicks1, D. Walker1, D. Eng2, B. Jiminez2, J. Kinross2, E. Holmes2, H. Williams1, T. Orchard1, 1Imperial College London, Gastroenterology, London, United Kingdom, 2Imperial College London, Surgery and Cancer, London, United Kingdom
Background
Inflammatory bowel disease (IBD) in South Asian patients is clinically distinct from the disease in the Caucasian population [1].
Metabonomic techniques are able to profile and distinguish cohorts of Caucasian Crohn's (CD) patients from ulcerative colitis (UC) and from healthy controls using urine [2] but published data are very limited in other ethnic populations.
Methods
147 South Asian patients were recruited from West London hospitals (St. Mary's, West Middlesex, Northwick Park and Ealing). Urine samples were collected from 32 healthy controls, 81 UC patients, and 31 CD patients. 1D spectra of human urine samples were acquired using a 600MHz Bruker NMR spectrometer. The data were analyzed using multivariate statistical analysis; univariate analyses (Kruskal–Wallis and Mann–Whitney tests) were also carried out on individual metabolites.
Results
In CD the metabolites hippurate (p < 0.001), formate (p = 0.01) and succinate (p < 0.001) were significantly lower in patients than controls. The findings in UC were similar with hippurate (p < 0.001), formate (p = 0.002) and succinate (p < 0.001) all lower in patients than healthy controls.
There was no statistical difference between the median metabolite levels in the UC and CD cohorts.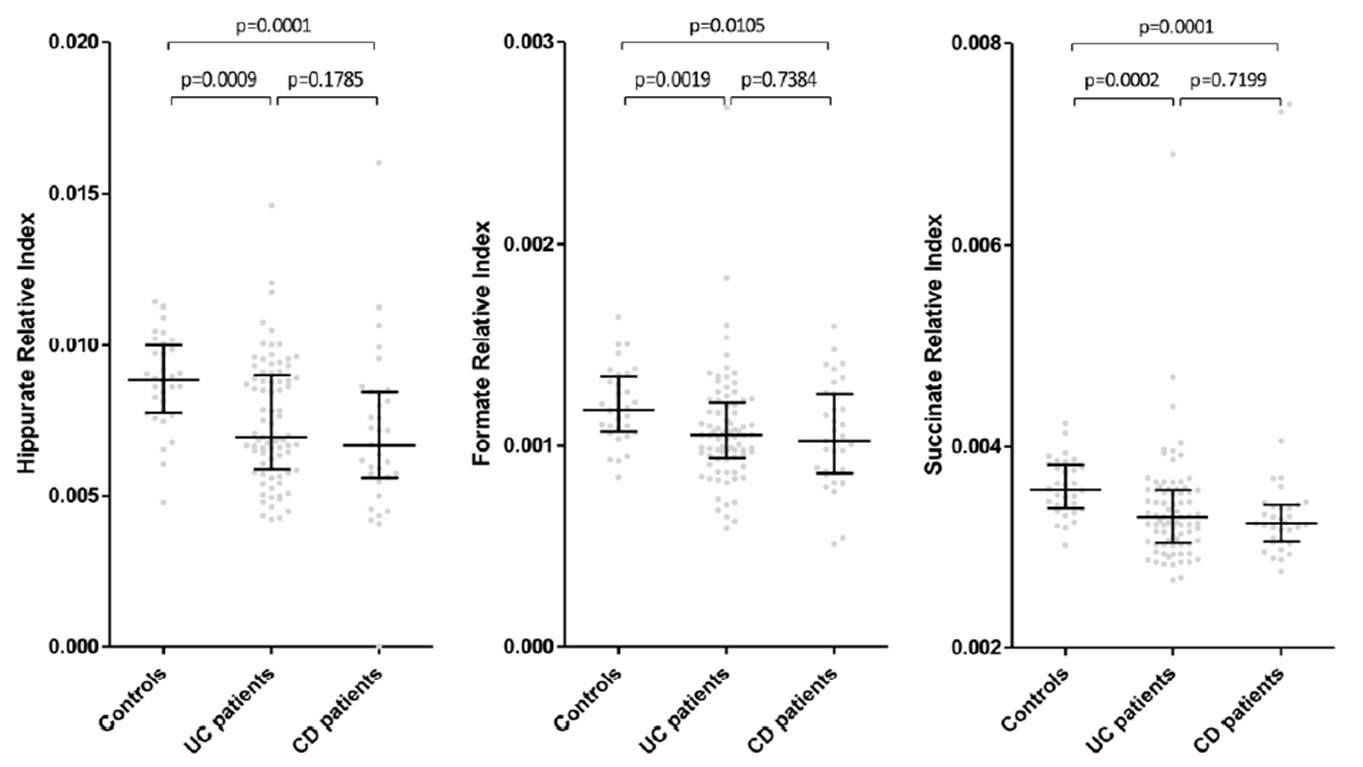 Multivariate modelling (Partial last squares Discriminant Analysis) was able to distinguish the cohorts of combined IBD vs controls, but not the CD from the UC subgroups.
Conclusion
Urinary metabolic profiling has shown distinct differences in South Asian IBD patients and controls, as has been previously shown in Caucasian studies. However, no difference in urinary hippurate was found between South Asian Crohn's disease and UC patients, contrary to findings in Caucasians. Nor could these groups be distinguished using multivariate analysis.
Some changes in the discriminatory metabolites are similar to those in Caucasian IBD but some are different suggesting an effect of ethnicity on the metabolic profile, which will be further investigated.
1. Walker DG, (2011), Differences in inflammatory bowel disease phenotype between South Asians and Northern Europeans living in North West London, UK., Am J Gastroenterol.
2. Williams HRT, (2009), Characterization of Inflammatory Bowel Disease With Urinary Metabolic Profiling, Am J Gastroenterol.