P649. Inflammatory bowel disease-associated with colorectal cancers in Korea: a single-center experience
J.Y. Lee1, B.D. Ye1, S.-K. Yang1, J.W. Kim1, S.H. Park1, S.-K. Park1, D.-H. Yang1, K.W. Jung1, K.-J. Kim1, J.-S. Byeon1, S.-J. Myung1, J.-H. Kim1, 1University of Ulsan College of Medicine, Asan Medical Center, Department of Gastroenterology and Inflammatory Bowel Disease Center, Seoul, South Korea
Background
Although a colorectal cancer (CRC) is a well known long-term complication of inflammatory bowel disease (IBD), the epidemiology and characteristics of CRC associated with IBD in Asians are still unclear.
Methods
We retrospectively reviewed the medical records of IBD patients who were registered at the Asan Medical Center from July 1989 to August 2012. Patients who were diagnosed with CRC after one year of IBD diagnosis were identified.
Results
A total of 3575 patients with definite IBD (1877 with ulcerative colitis [UC] and 1698 with Crohn's disease [CD]), were enrolled and 19 patients diagnosed with IBD-associated colorectal adenocarcinoma (11 with UC and 8 with CD) were identified. There were 11 females (57.9%) and the median age at diagnosis of IBD and CRC was 26.6 years (interquartile range [IQR], 17.0–33.6 years) and 36.1 years (IQR, 30.3–47.9 years), respectively. Two UC patients had combined primary sclerosing cholangitis. The median interval from IBD diagnosis to CRC diagnosis was 13.1 years (IQR, 8.8–17.7 years). When the location of tumor was divided into rectal cancer or non-rectal cancer, the number of rectal cancer in UC and CD was four (36.4%) and seven (87.5%), respectively. Among seven CD patients with rectal cancer, five (71.4%) had a history of chronic perianal fistula. One UC patient (9.1%) had synchronous adenocarcinomas at rectum and descending colon. The histologies of CRCs were as follows; moderately differentiated adenocarcinoma in seven (36.8%), mucinous adenocarcinoma in five (26.3%), poorly differentiated adenocarcinoma in three (15.8%), well differentiated adenocarcinoma in three (15.8%), and signet ring cell carcinoma in one (5.3%). The stage distribution of cancer was as follows; I in one (5.3%), II in seven (36.8%), III in three (15.8%) and IV in eight (42.1%). The cumulative risks of CRC at 10 years after UC, CD, and IBD diagnosis were 0.4%, 0.4%, and 0.4%, respectively. They were 4.9%, 6.6% and 5.5%, respectively after 20 years (Figure 1).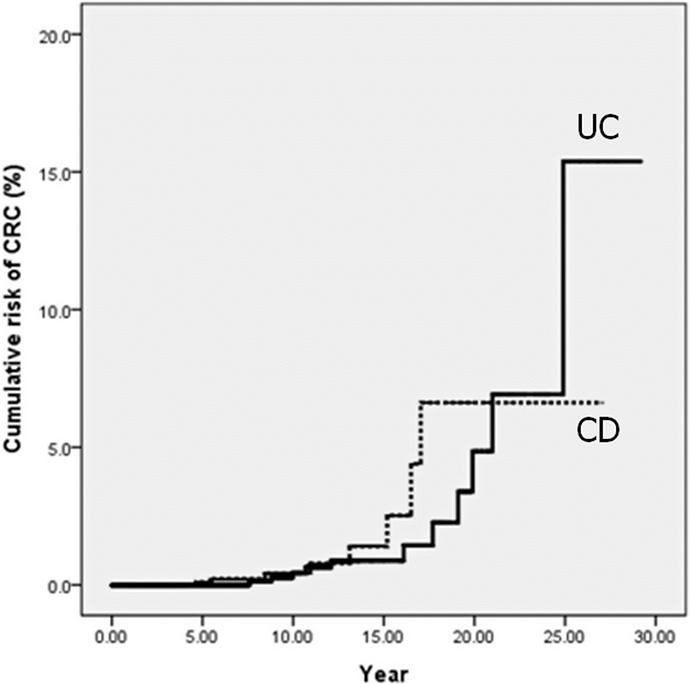 Conclusion
The proportion of rectal cancer appears to be high in patients with CD. The risk of CRC in Korean IBD patients seems to be comparable to that of Western IBD patients.