DOP038. Adolescent and young adults are more likely to require total colectomy in ulcerative colitis: UK population based cohort study
V. Chhaya1, R. Pollok1, E. Cecil2, A. Majeed2, S. Saxena2, 1St George's University of London, Gastroenterology, London, United Kingdom, 2Imperial College London, Primary care and Public Health, London, United Kingdom
Background
It is hypothesized that younger age at diagnosis in patients with ulcerative colitis (UC) is associated with poor prognosis and severe disease. Our aim was to determine whether patients diagnosed at a younger age were more likely to have a total colectomy.
Methods
We conducted a retrospective cohort study using electronic primary care records in the UK from the Clinical Practice Research Datalink (CPRD). We identified incident cases of UC between 1989 and 2009 in the CPRD which contains prescribing and clinical data for 13 million people in the UK and is a validated research database. Patients had to be registered for at least 12 months prior to diagnosis to be included. We stratified our cohort into four age categories; <16 years, 16–24 years, 25–64 years and >65 years. We performed survival analysis using the Kaplan–Meier method to obtain total colectomy rates by age category and present the results of a multivariate Cox-proportional hazards model. Log-rank testing was used to compare survival between groups.
Results
Overall, 8673 patient met our inclusion criteria of which 479 went on to have a total colectomy during follow up. A large proportion of young patients aged <25 years were undergoing colectomy compared to older subjects. 11.6%, 8.2%, 5.5% and 3.5% of patients underwent colectomy in the <16, 16–24, 25–64, >65 age groups respectively. The 3 year colectomy rates were 9.5% (95% CI: 6.2–14.4%), 7.9% (95% CI: 6.0–10.2%), 4.5% (95% CI: 4.0–5.2%) and 3.5% (95% CI: 2.6–4.6%) for the <16, 17–24, 25–64, >65 age groups respectively (p < 0.001 via log-rank testing).
In the univariate analysis, age <16 had the worst outcome (crude HR 2.18, 95% CI: 1.49–3.19, p < 0.001) but this did not reach statistical significance in the multivariate analysis where the 16–24 age group had the worst outcome (adjusted HR: 1.35, 95% CI: 1.04–1.75, p = 0.03).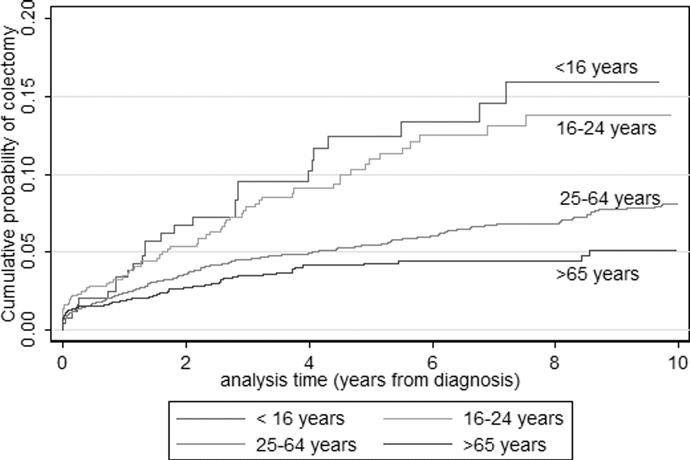 Conclusion
Adolescents and young adults diagnosed with UC have a greater risk of colectomy compared with those who are diagnosed in later adulthood. This is in keeping with previous studies and has implications for a more aggressive treatment approach being adopted in this age group, as well as research to better understand reasons for worse clinical outcomes.