DOP069. Tripeptide KdPT ameliorates intestinal inflammation in patients with mild to moderate active ulcerative colitis
T. Kucharzik1, G. Lemmnitz2, C. Abels2, C. Maaser1, 1Lüneburg Hospital, University of Göttingen, Department of General Medicine and Gastroenterology, Lüneburg, Germany, 2Wolff Pharma, Dermatology, Bielefeld, Germany
Background
KdPT is a tripeptide with broad anti-inflammatory activity. Pre-clinical data indicated that KdPT is safe and efficacy was shown in different murine models of intestinal inflammation. KdPT given orally proved to be safe and well tolerated in previous clinical studies.
Methods
We performed a multi-centre, randomised, double-blind, placebo-controlled prospective phase II trial (2011–002462–20) to evaluate efficacy and safety of KdPT in patients with mild to moderate ulcerative colitis (UC). As add-on therapy to aminosalicylates, azathioprine, and/or corticosteroids placebo or KdPT in three different doses (20, 50, 100 mg BID) was administered. 168 patients were randomized (ITT: n = 162; PP: n = 116) in 6 countries. The primary objective was to determine time to response to KdPT, defined as time from Day 0 to earliest treatment visit at which sustained improvement in colitis activity index (CAI) of ≥50% was determined. Improvement in CAI was to be ≥50% at Week 8, irrespective of any interim decline, for improvement to be classified as sustained. Due to an unusually high placebo rate from week 6 on assumptions for the statistical evaluation of the primary endpoint were violated, thus appropriate statistical tests were run to compare treatment groups.
Results
The primary endpoint for pooled KdPT (PP) approached significance using Log rank (Renyi family) test (p = 0.0525, one-sided) and showed statistical significance for the Wilcoxon (Renyi family) test (p = 0.0368, one-sided). At Week 2 and Week 4, remission rates were approximately twice as high for pooled KdPT compared to placebo (2 weeks: p = 0.0361; 4 weeks: p = 0.0178). For 20 mg KdPT remission occurred earlier compared to 50 mg or 100 mg K(D)PT. CAI response rates lost significance at later time points due to unexpected high placebo rates from week 6 on. Patients with active and more severe disease (CAI ≥9; baseline medication: aminosalicylates + corticosteroids and/or azathioprine) showed earlier and more pronounced response to KdPT compared to placebo (p = 0.0156). KdPT was safe and tolerated well at the investigated doses with no difference between placebo and KdPT groups.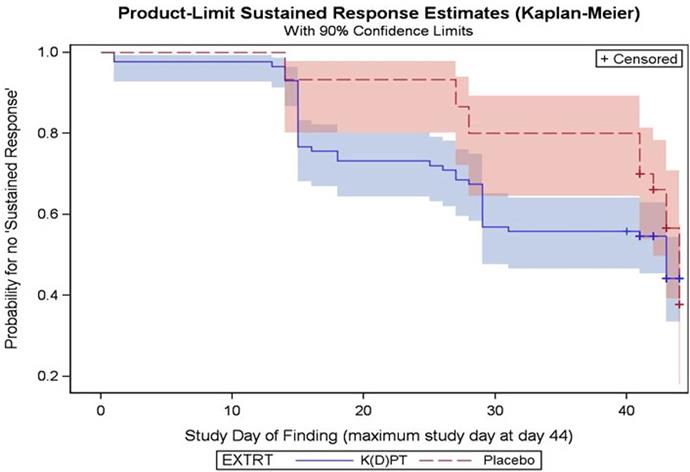 Conclusion
KdPT shows an early and statistically significant pharmacological effect in patients with mild to moderately active UC while being safe and well tolerated. Subgroups with active and more severe disease show significant differences between KdPT and placebo. Given as an add-on to baseline therapy, KdPT accelerates disease remission and leads to an earlier response.