DOP080. Increasing colectomy rates over time in ulcerative colitis and the impact of thiopurines: A nationwide cohort study
V. Chhaya1, S. Saxena2, E. Cecil2, A. Majeed2, R. Pollok1, 1St George's University of London, Gastroenterology, London, United Kingdom, 2Imperial College London, Primary care and Public Health, London, United Kingdom
Background
The efficacy of thiopurines for the treatment of ulcerative colitis (UC) is well established but whether they alter the long-term need for colectomy remains unknown. Our aim was to determine the changing trends in colectomy over time using the Clinical Practice Research Datalink (CPRD).
Methods
We conducted a nationwide cohort study using electronic primary care records in the UK. We identified incident cases of UC between 1989 and 2009 in the CPRD which contains prescribing and clinical data for 8% of the UK population and is a validated research database. We divided the cohort according to year of diagnosis: era 1–1989 to 1995, era 2–1996 to 2002, era 3–2003 to 2009. We performed survival analysis using the Kaplan–Meier method to obtain the 5 year rates for total colectomy and thiopurine (azathioprine and mercaptopurine) prescribing from our cohort. Log-rank testing was used to compare survival between groups.
Results
Overall, 8673 patient met our inclusion criteria of which 479 went on to have a total colectomy during follow up. 52% of patients were male and the median age of the cohort was 46 years. The overall 5 year colectomy rate over the whole period of follow up was 5.9% (95% CI: 5.4–6.5%). Colectomy was more common in males (62.2% vs 37.8%, p < 0.001). The 5 year colectomy rate was 4.2%, 5.1% and 6.9% for era 1, era 2 and era 3 respectively (p = 0.001 via Log-rank testing) (Figure 1). The 5 year probability of receiving a thiopurine was 10.9%, 19.3% and 27.9% for era 1, era 2 and era 3 respectively (p < 0.001, via Log-rank testing) (Figure 2). Furthermore, the proportion of early thiopurine users within the first year of diagnosis increased by era and was 4.6%, 9.6% and 13.4% (χ2 p < 0.001).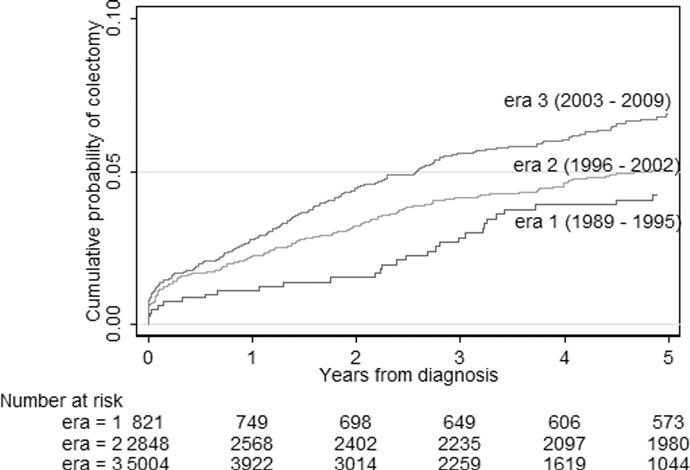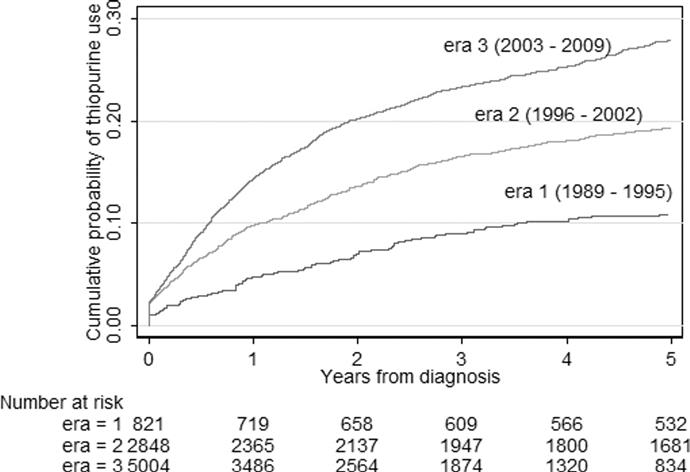 Conclusion
Rates of colectomy in the UK have increased by era of diagnosis despite the earlier and increasing use thiopurines over the same time period. This is in contrast to findings in Crohn's disease and to that of other studies in UC. Further study is proposed to explain these trends.