DOP082. Identified areas of need to enhance evidence-based inflammatory bowel disease management and patient care
G. D'Haens1, B.L. Bressler2, S. Danese3, P.R. Gibson4, S.B. Hanauer5, W.J. Sandborn6, 1Academic Medical Centre, Department of Gastroenterology and Hepatology, Amsterdam, Netherlands, 2University of British Columbia, Dept of Gastroenterology, Vancouver, Canada, 3Istituto Clinico Humanitas IRCCS in Gastroenterology, Gastroenterology, Milan, Italy, 4Monash University, Dept of Gastroenterology, Box Hill, Australia, 5University of Chicago, Section of Gastroenterology, Hepatology, and Nutrition, Chicago, United States, 6University of California San Diego, Division of Gastroenterolgy, San Diego, United States
Background
The continual publication of data impacts the practice of evidence-based medicine in inflammatory bowel disease (IBD) management. Acting on evidence to make treatment decisions is the goal, yet many busy clinicians cannot achieve it. In September 2013, a group of 6 global gastroenterology leaders (GLs) conducted a systematic clinical appraisal of the medical literature and compared data to clinical practice patterns of gastroenterologists. The goal was to reveal gaps between the evidence and practice in order to begin closing the gaps.
Methods
To gauge practice patterns, 6 treatment-scenario statements were developed, pertaining to anti-tumor necrosis factor (TNF) therapy, definitions of treatment failure, the use of drug levels, and long-term risks. Gastroenterologists (N = 17,005 globally) were asked via emailed survey to vote on each statement, using a Likert scale of acceptance or rejection. All survey respondents (SRs; n = 218) were in practice, and 73.9% reported spending ≥25% of their time managing IBD patients. While the survey was conducted for 6 weeks, the GLs reviewed the medical literature related to each statement and then voted on the statements, using the same Likert scale as the survey. The survey results and the GL voting were then compared and analysed to identify gaps in evidence-based practice in IBD management.
Results
Voting results from 2 of the 6 statements are shown here (Figs 1, 2) and align with the other 4 statements. Figure 1 shows more than 40% of SRs rejected the statement; the majority of GLs accepted it.
The GLs' analysis and discussion of the literature revealed that multiple factors could be involved in loss of response or treatment failure, including patient-specific issues, disease characteristics, genetics, endogenous TNF levels, clearance of the anti-TNFα agents, and antibody development. Figure 2 shows the GLs' strong level of agreement, but ∼30% of the SRs rejected the statement.
After analysis of the literature and discussion by the GLs, it was recognized that low anti-TNF-α trough concentrations correlate with relapse and may also be influenced by antibody formation and other disease-related factors.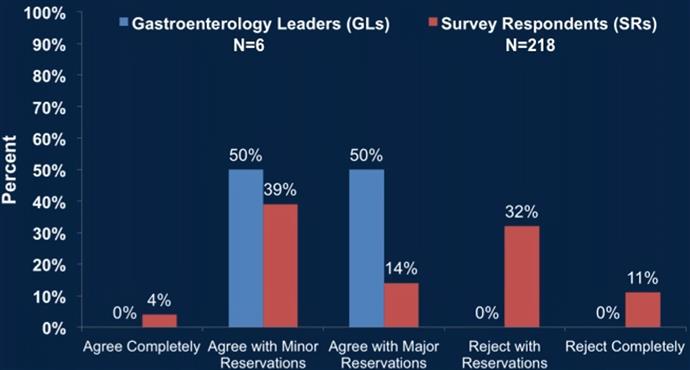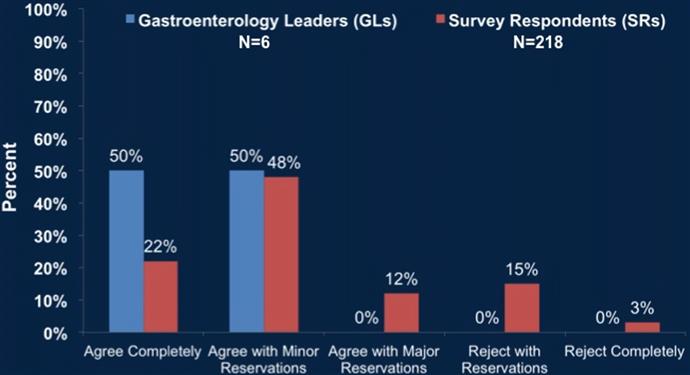 Conclusion
Discordant voting between the GLs and the SRs on treatment-scenario statements reveals the need to enhance the level of evidence-based gastroenterology practice related to IBD management.