DOP092. Risk of invasive pneumococcal infection in patients with inflammatory bowel disease: A nationwide Danish cohort study
B. Kantsø1, J. Simonsen2, S. Hoffmann3, P. Valentiner-Branth4, A. Munk Petersen5, T. Jess2, 1Statens Serum Institut, Microbiological Diagnostics & Virology, Copenhagen, Denmark, 2Statens Serum Institut, Department of Epidemiology Research, Copenhagen, Denmark, 3Statens Serum Institut, Neisseria and Streptococcus Reference Laboratory, Copenhagen, Denmark, 4Statens Serum Institut, Department of Infectious Disease Epidemiology, Copenhagen, Denmark, 5Hvidovre Hospital, Department of Gastroenterology, Hvidovre, Denmark
Background
Inflammatory bowel diseases (IBD) such as Crohn's disease (CD) and ulcerative colitis (UC) are a result of an inappropriate immune response. Therefore, the main purpose of the medical treatment is to moderate the immune response thus reducing disease activity, leading to a theoretically increased risk of invasive pneumococcal infection (IPI).
The objective of this study was to examine the impact of IBD on the risk of IPI.
Methods
Patients diagnosed with IBD from 1977 to 2013 were identified from the Danish National Patient Register. For each IBD patient, 20 individuals matched according to sex, age, and municipalities were selected from the Danish Civil Registration System. The IBD and control group data were linked with IPI data from the national laboratory surveillance.
Using Cox regression with time since onset of IBD/date of matching as underlying time axis we calculated hazard rate ratios (HRRs) for IPI after IBD.
Results
Among 83,358 IBD cases we found 316 IPI cases giving an incidence of 38 per 10,000, whereas the controls had an incidence of 26 per 10,000. The HRRs for CD and UC within the first 6 months after IBD diagnosis were high (>3) and then decreased to a constant level which for CD was significantly higher (approximately twofold) than for the controls and for UC non-significantly just above 1.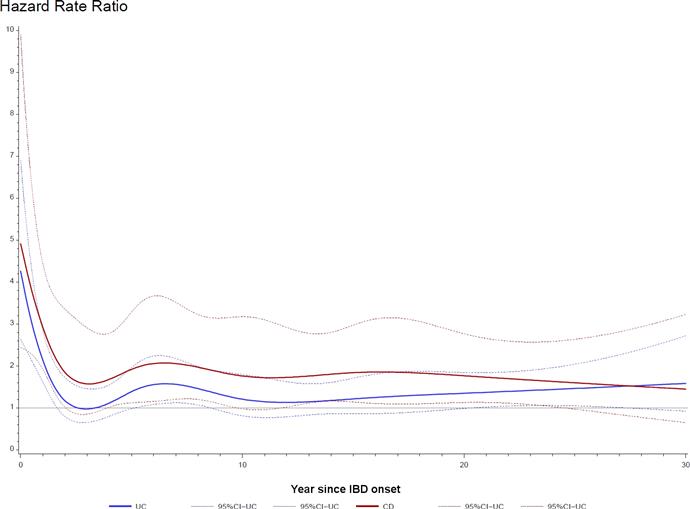 Conclusion
We found an increased risk of IPI infections among patients with IBD, which was most pronounced in the first years after diagnosis but remained increased over time, especially in CD.