P033. Prevention of recurrent Clostridium difficile infection by neutralizing monoclonal antibodies in a hamster relapse model
D. Staelens1, M. Van de Wouwer2,3, E. Brouwers3, S. Caluwaerts4, P. Rottiers4, P. Vanhoenacker4, N. Geukens2, P.J. Declerck3, M. Ferrante1, S. Vermeire1, P. Rutgeerts1, G. Van Assche1, 1Translational Research in GastroIntestinal Disorders, Department of Clinical and Experimental Medicine, Leuven, Belgium, 2PharmAbs, PharmAbs, Leuven, Belgium, 3KU Leuven, Laboratory for Therapeutic and Diagnostic Antibodies, Leuven, Belgium, 4ActoGeniX, ActoGeniX, Zwijnaarde, Belgium
Background
In recent years, the incidence and severity of Clostridium difficile-associated disease (CDAD) is increasing with significant morbidity and mortality. Moreover, IBD patients are more sensitive to CDAD compared to the non-IBD population. Unfortunately, current treatment regimes are far from optimal with a relapse rate around 30%. Therefore, in this study we aim to develop Clostridium difficile (C diff) toxin-antigen binding antibody fragments for targeted mucosal delivery as a novel treatment modality in CDAD.
Methods
Monoclonal antibodies (mAbs) against both C diff toxins (TcdA and B) were generated, produced and purified by a standard protocol using SJL/J mice, a CeLLine system and protein A affinity chromatography. mAbs were evaluated for their in vitro neutralization capacities of TcdA or TcdB at 570 pM or 56 pM, respectively, using human fibroblasts (IMR-90) and selected for in vivo tests. Male Syrian Golden hamsters (95–100 gram) received 30 mg/kg oral clindamycin on day −5 and were infected with C diff by oral gavage (1000 spores, 630 strain) at day 0. Next, hamsters were treated with vancomycin for 4 consecutive days (5 mg/kg, n = 25). Fourteen of these hamsters were treated with a combination of mAbs against both toxins (injected on day 5 and 7, 20 mg/kg, intraperitoneal). Hamsters were monitored for weight loss and disease symptoms (wet tail, hunched posture, raised ears, loss of interest) up till day 22. Serum mAb concentrations were measured using a mouse IgG-specific sandwich-ELISA. Statistical analysis was performed using GraphPad Software.
Results
We observed potent in vitro neutralizing activity for two mAbs, exhibiting EC50 values of 59 pM and 182 pM, for the anti-TcdA and anti-TcdB antibody, respectively. Next, when testing these mAbs in the well-established hamster model for recurrent C diff infection, survival curves showed a significant reduction in mortality rate of hamsters treated with the mAbs (Log-rank test, p = 0.0075) as compared to vancomycin treatment only.
This coincided with a complete disappearance of disease symptoms. Additionally, we were able to detect antibody levels up to 61 µg/ml in serum of hamsters 15 days after administration of the last mAb dose.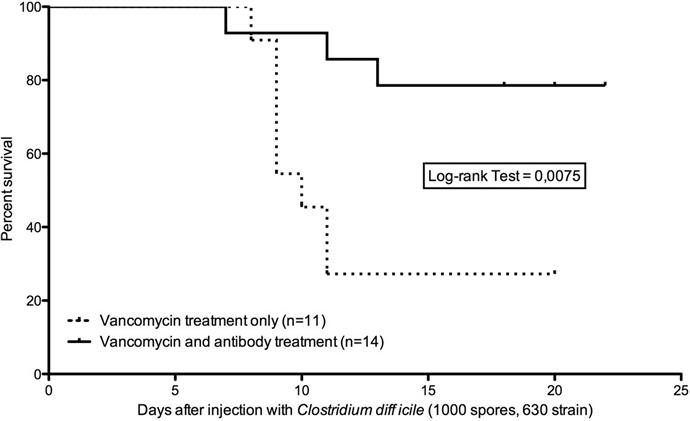 Conclusion
This study demonstrates high in vitro as well as in vivo neutralizing properties for anti-TcdA/B mAbs in the well-established Syrian Golden hamster model of recurrent CDAD. We will further develop a system for local delivery of antigen binding fragments of the selected mAbs using the ActoGeniX Lactococcus-based mucosal delivery system.