P214. Health-related quality of life among patients with primary sclerosing cholangitis
J. Haapamäki1, H. Sintonen2, N. Barner-Rasmussen1, M. Färkkilä1, 1Helsinki University Central Hospital, Division of Gastroenterology, Helsinki, Finland, 2University of Helsinki, Department of Public Health, Hjelt Institute, Helsinki, Finland
Background
The aims of the study were to assess health-related quality of life (HRQoL) of patients with primary sclerosing cholangitis (PSC) and to compare it with that of the general population, and to examine changes in HRQoL in newly diagnosed PSC patients in 1 to 2 years' follow-up, as well as to compare their HRQoL with that of newly diagnosed inflammatory bowel disease (IBD) patients.
Methods
The patients, picked from the Helsinki University Central Hospital's (HUCH) PSC register, filled in the survey questionnaire when attending their first or subsequent endoscopic retrograde cholangiography (ERC) examination at HUCH. The follow-up questionnaire was sent to those newly diagnosed by mail 1 to 2 years after diagnosis. Data from a national health survey was used for comparison of HRQoL between PSC patients and the general population and data about HRQoL of newly diagnosed IBD patients came from an earlier HRQoL survey [1]. The general 15D tool served as a measurement of HRQoL and severity of PSC was graded by scoring the ERC findings according to a modified version of Ponsioen [2] separately for intra- and extrahepatic changes. A sum score was calculated.
Results
The mean age of the patients was 43.3 years (18–78 years), and the duration of PSC 0–29 (mean 5.5) years. Most of the patients had no symptoms of PSC. Of all the patients, 69.5% also had inflammatory bowel disease. Older age and symptoms of PSC were related to impairment of HRQoL scores, but gen-der, ERC score or comorbidity with IBD did not have a significant impact on them. The total 15D scores between PSC patients (mean 0.934) and the general population (mean 0.939) did not differ significantly but the dimensions of elimination (p < 0.001), depression (p = 0.003), distress (p = 0.003) and vitality (p = 0.005) were significantly lower in PSC. In the newly diagnosed, no significant changes were observed in the 15D scores in a mean 1.58 years' follow-up. The 15D scores of age-, gender- and IBD activity matched IBD patients were lower than those of the PSC patients (0.876 versus 0.914, p = 0.04).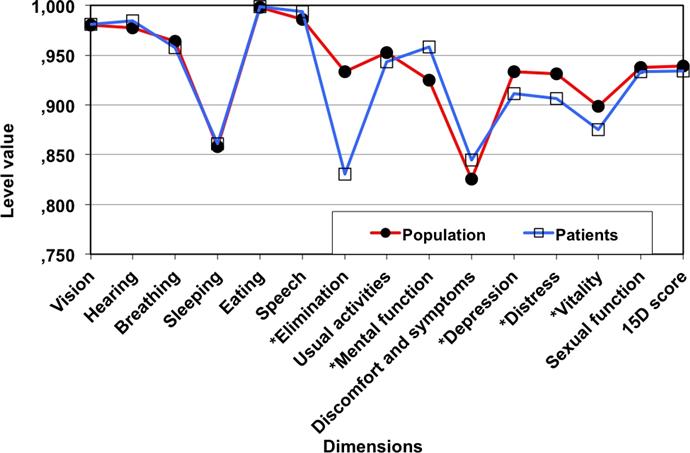 Conclusion
HRQoL of PSC patients was mostly comparable to that of the general population but special attention should be paid to the patients' psychological well-being. No significant HRQoL changes were observed in the mean 1.58 years' follow-up after diagnosis of PSC. Newly diagnosed PSC patients have better HRQoL than do newly diagnosed IBD patients, probably because of more intensive follow-up and a different spectrum of symptoms.
1. Haapamäki J, Roine RP, Sintonen H, et al., (2010), Health-related quality of life in inflammatory bowel disease measured with the generic 15D instrument. Quality of Life Research.
2. Ponsioen CY, Reitsma JB, Boberg KM, et al., (2010), Validation of a cholangiographic prognostic model in primary sclerosing cholangitis. Endoscopy.