P245. Determining patient & disease related risk factors for the development of clinical recurrence following ileocolic resection for Crohn's disease within a tertiary IBD unit
P. Morar, J. Hodgkinson, S. Thalayasingam, K. Koysombat, O. Faiz, A. Hart, J. Warusavitarne, St Mark's Hospital, Colorectal Surgery & IBD Unit, London, United Kingdom
Background
Ileocolic resection is reserved for patients with moderate to severe Crohn's disease (CD) [1]. Postoperative clinical recurrence (CR) can occur in up to 26% in the first year and 41% within 5 years [2]. Predicting the risk of early CR is key in determining appropriate treatment strategies. Current studies suggest a history of smoking, recurrent surgery and penetrating disease contribute to early CR [2,3]. Our study aims to determine patient and disease related preoperative risk factors for the development of early CR within a tertiary referral unit.
Methods
We retrospectively reviewed case notes of 147 subjects who underwent ileocolic resection for CD over a six year period. All patient (gender, smoking history, family history) and disease (age of disease onset, disease location, disease phenotype and surgical CD history) related variables were extracted. CR was defined as an initiation or change in medical treatment for recurrent symptoms with endoscopic or radiological evidence of active disease. Time to CR was measured in months after surgery. Univariate analysis was performed using the log rank test and multivariate analysis was performed using cox regression analysis.
Results
One hundred and thirty-one subjects had long term follow up data. Fifty-two developed CR (39.7%). On univariate analysis, ileocolic (p = 0.053) and recurrent surgery (p = 0.057) were associated with earlier CR.
Multivariate analysis demonstrates that ileocolonic disease (p = 0.013) and recurrent surgery (p = 0.024) are both significantly associated with the presence of earlier CR when adjusting for all disease related variables.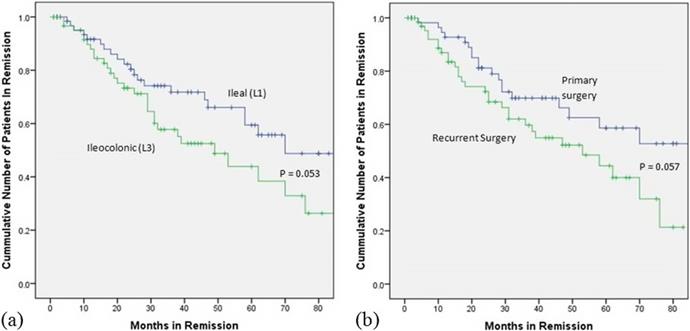 Table (abstract P245): Disease related variables - Frequency data, univariate & multivariate analysis for the development of postoperative clinical recurrence
Variable, category a
Clinical recurrence, N (%)
Remission, N (%)
Total, N (%)
Univariate P value
Multivariate P value
OR
95% CI for OR
Age of disease onset
 <16 (A1)
10 (41.6)
14 (58.3)
24 (18.3)
0.387
0.873
1.097
0.35–3.41
 16–40 (A2)
36 (39.6)
55 (60.4)
91 (69.5)
0.140
2.11
0.78–5.67
 >40 (A3)*
5 (38.4)
8 (61.5)
13 (9.9)
Location of Crohn's disease
 Ileocolic (L3)
30 (46.9)
34 (53.1)
64 (48.9)
0.053
0.013
2.14
1.17–3.90
 Terminal ileum (L1)*
22 (32.8)
45 (67.2)
67 (51.1)
Crohn's disease phenotype
 Stricturing (B2)
28 (41.8)
39 (58.2)
67 (51.1)
0.562
0.738
1.11
0.62–1.98
 Penetrating (B3)*
24 (37.5)
40 (62.5)
64 (48.9)
Crohn's disease surgical history
 Recurrent surgery
30 (42.9)
40 (57.1)
70 (53.4)
0.057
0.024
1.99
1.10–3.60
 Primary resection*
21 (35.6)
38 (64.4)
59 (45)
OR, odds ratio; CI, confidence interval. a Asterisk indicates reference category for multivariate analysis.
Conclusion
Our data suggests the presence of ileocolic disease and recurrent CD surgery are independent risk factors for the development of earlier CR. Our study confirms current evidence of recurrent surgery being associated with earlier CR [4]. There is wide variation in the literature with the association of disease location as a risk factor for CR [2,3,5]. The suggestion of ileocolic disease involvement in earlier CR warrants further analysis with prospective studies.
1. Van Assche, G et. al., (2010), The Second European Evidence-based Consensus On The Diagnosis And Management Of Crohn's Disease: Definitions And Diagnosis, Journal of Crohn's and Colitis, 7–27.
2. Buisson A et. al., (2012), Review article: The Natural History Of Postoperative Crohn's Disease Recurrence, Alimentary Pharmacology & Therapeutics, 625–633.
3. De Cruz, P et. al., (2012), Postoperative Recurrent Luminal Crohn's Disease: A Systematic Review, Inflammatory Bowel Diseases, 758–777.
4. Ardizzone, S. et. al., (2004), Azathioprine And Mesalamine For Prevention Of Relapse After Conservative Surgery For Crohn's Disease, Gastroenterology, 730–740.
5. Borley NR et. al., (1997), Preventing Postoperative Recurrence Of Crohn's Disease, The British Journal of Surgery, 1493–1502.