P285. Agreement among experts in the endoscopic evaluation of postoperative recurrence in Crohn's disease using the Rutgeerts score
K.B. Gecse1, M. Löwenberg1, P. Bossuyt2, P. Rutgeerts3, S. Vermeire4, L. Stitt5, M.K. Vandervoort5, W.J. Sandborn5,6, B.G. Feagan5,7, M.A. Samaan1,5, R. Khanna5, E. Dubcenco5, B.G. Levesque5,6, G. D'Haens1,5, 1University of Amsterdam, Academic Medical Center, Amsterdam, Netherlands, 2Imelda Hospital, Imelda GI Clinical Research Center, Bonheiden, Belgium, 3University Hospitals Gasthuisberg, Department of Gastroenterology, Leuven, Belgium, 4University Hospital, Department of Gastroenterology, Leuven, Belgium, 5Robarts Clinical Trials Inc., Robarts Research Institute, Western University, London, Ontario, Canada, 6University of California, San Diego, Division of Gastroenterology, La Jolla, United States, 7Western University, Department of Epidemiology and Biostatistics, Department of Medicine, London Ontario, Canada
Background
The Rutgeerts score was developed to assess the endoscopic severity of post-operative Crohn's disease (CD) recurrence, however this instrument has not been fully validated. We defined the intra- and inter-rater agreement for the Rutgeerts score and a modified Rutgeerts score.
Methods
Four experienced central readers reviewed video recordings from colonoscopies obtained from 30 CD patients with a history of ileo-colonic resection. The mucosal appearances of the neo-terminal ileum, anastomosis, and proximal colon were evaluated using the Rutgeerts score. In addition, a modified Rutgeerts score which subdivided i2 lesions [i2a = lesions confined to the ileocolonic anastomosis (including anastomotic stenosis); i2b = lesions in the neoterminal ileum with normal intervening mucosa, Figure 1], and any additional observed lesions were recorded.
Videos were triplicated and assessed, in random order, by each reader. The inter- and intra-rater agreement was determined by calculating the inter-class correlation coefficients (ICCs). To assess validity, the score was correlated to a global assessment of endoscopic lesion severity (GELS) based on a 10 cm linear visual analogue scale.
Results
The intra-rater ICCs for the Rutgeerts score, modified Rutgeerts, and GELS scores (95% CIs) were 0.81 (0.72–0.88), 0.83 (0.75–0.90), and 0.76 (0.66–0.86), respectively. The corresponding inter-rater agreement ICCs were 0.72 (0.60–0.83), 0.75 (0.63–0.85), and 0.62 (0.47–0.77), respectively. The correlation coefficient between the Rutgeerts and modified Rutgeerts scores with GELS was 0.80 (0.65–0.89), and 0.81 (0.65–0.90), respectively.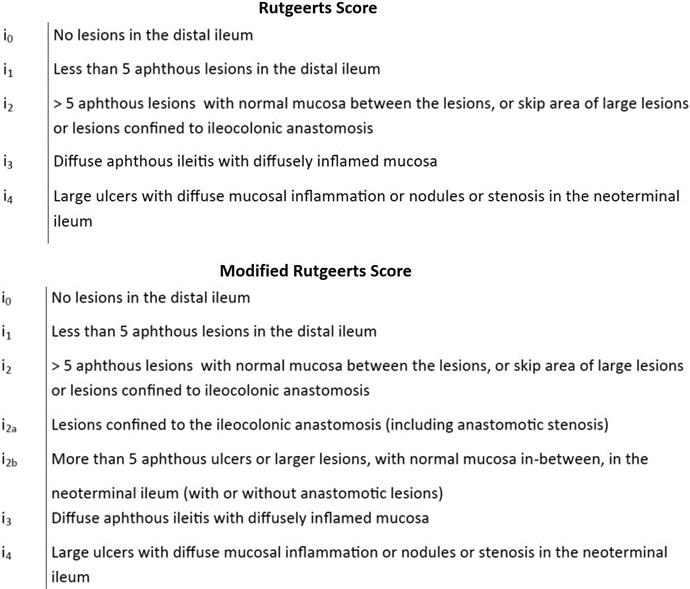 Conclusion
These results indicate that central reading is reliable for the assessment of post-operative endoscopic CD disease activity. Further study is needed to assess the responsiveness of these endoscopic indices and to validate the modified Rutgeerts score for clinical use.