P437. Intravenous (IV) ferumoxytol (FER) for the treatment of iron deficiency anaemia (IDA) in patients with inflammatory bowel disease (IBD): Efficacy, safety and health-related quality of life (HRQOL)
D. Hetzel1, D. Ford2, N. Dahl3, W. Strauss3, 1Royal Adelaide Hospital, Gastroenterology and Hepatology, Adelaide, Australia, 2Toronto Digestive Disease Associates, Inc, Gastroenterology, Vaughan, Ontario, Canada, 3AMAG Pharmaceuticals, Inc, Medical Affairs, Waltham, MA, United States
Background
IDA, common in patients with IBD due to blood loss, inflammation and malabsorption, may negatively impact patients' HRQL. Many patients do not tolerate oral iron or do not adequately respond and may live with chronic anaemia and its negative effects. Two Phase-3 trials investigated the efficacy and safety of IV FER for the treatment of IDA in patients with a history of unsatisfactory oral iron therapy or in whom oral iron could not be used. This analysis explored the impact of IV iron treatment on the subgroup of patients with IBD enrolled in these studies.
Methods
Patients with baseline Hgb 7–10 g/dL, TSAT <20%, were randomized 3:1 to FER (2 injections of 510 mg, 3–8 days apart) or placebo (PL), in Study-1, and 2:1 to FER or 1g iron sucrose (IS, 200 mg, 5 doses over 2 weeks) in Study-2. Efficacy assessments compared treatment groups for change in Hgb, TSAT (both Studies), and Functional Assessment of Chronic Illness Therapy-Fatigue (FACIT-F) score (Study-1) from Baseline to Week 5. Safety data from both studies were pooled for this analysis.
Results
See the table. Of the 1413 patients enrolled, 116 had either Crohn's disease (45) or ulcerative colitis (71). Their mean age was 41.6±14.5 yrs; most were female (68%) and white (75%). Starting at Week 2, Hgb in the FER group increased significantly over the PL group (Week 5 endpoint, 2.7 g/dL vs −0.6 g/dL, p < 0.0001) (Figure 1a).
Baseline FACIT-F scores (FER, 20.2) in the IBD patients were lower than general US population norms (40.1), and comparable to anaemic cancer patients receiving chemotherapy (23.9). The improvement in FACIT-F scores observed among FER-treated patients with IBD (+11.4 points) mirrored that seen in the total study population, where FACIT-F scores showed significantly greater improvement after FER treatment than PL (+11.7 vs +6.8 points, p < 0.001) (Figure 1b). The AE incidence was similar to that in the total study population (FER, 46.1%; IS, 44.2%, PL, 43.0%). SAE rates were comparable in the Treatment Groups with 1 related SAE in the FER group. There were no cardiovascular SAEs among FER patients.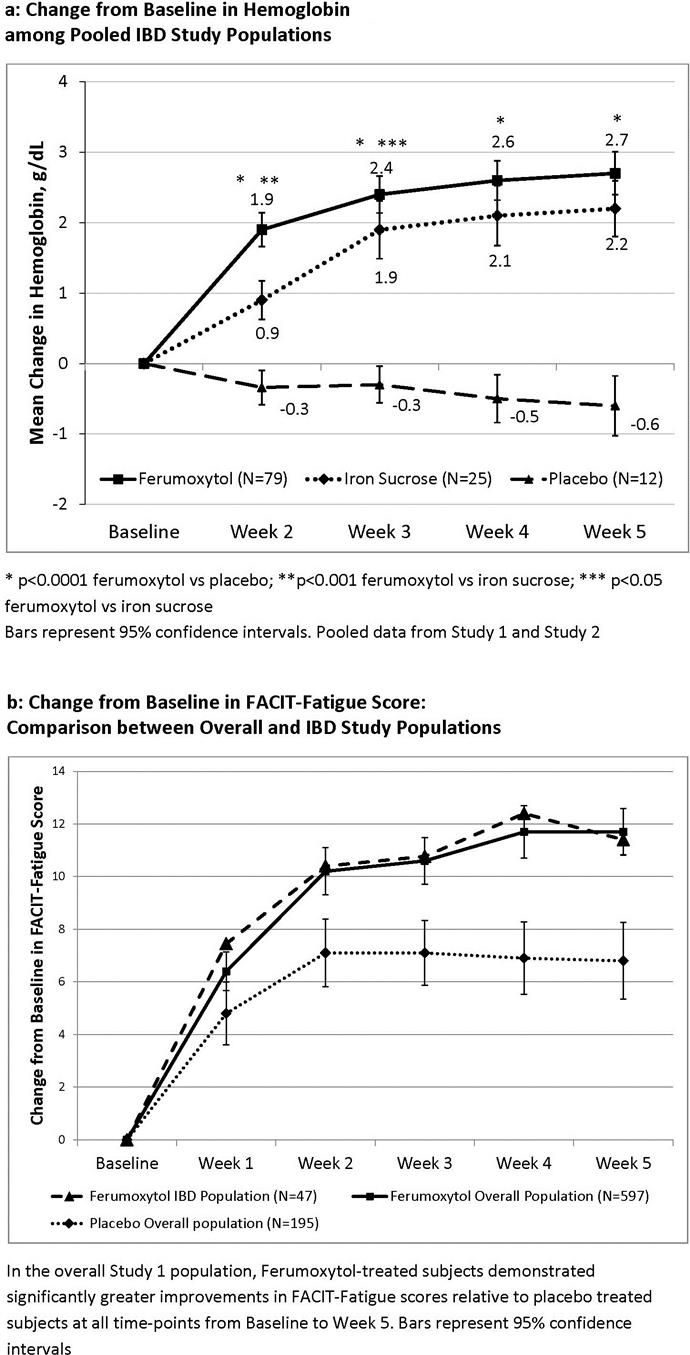 Table: IBD patients in Study-1 and Study-2
Ferumoxytol (N = 79)
Iron sucrose (N = 25)
Placebo (N = 12)
Efficacy results (ITT population)
Mean baseline Hgb (g/dL)
8.7 (0.9)
8.6 (0.9)
8.9 (0.7)
Mean change in Hgb (g/dL) a
2.7 (1.4)*
2.2 (1.0)
−0.6 (0.8)
Mean change in TSAT (%) a
7.7 (16.4)
2.4 (26.6)
0.3 (2.2)
Mean change in serum ferritin (ng/mL) a
100.9 (113.7)
108.7 (162.2)
−0.2 (2.4)
Safety results (Safety population)
All AEs
43.0%
44.0%
66.7%
Related AEs
8.9%
12.0%
0
SAES
6.3%
4.0%
0
Related SAEs
1.3%
0
0
AEs of Special Interest - protocol-defined b
5.1%
4.0%
0
Cardiovascular AE Composite Endpoint c
0
4.0%
0
AEs resulting in study discontinuation
2.5%
4.0%
0
Death
0
0
0
*p-value <0.0001 derived from an analysis of covariance model, adjusting for baseline haemoglobin and underlying condition. Change from Baseline uses an imputed value of 0 for missing visits.
a From Baseline to Week 5.
b Includes protocol-defined signs and symptoms of hypotension and hypersensitivity.
c Includes myocardial infarction, heart failure, moderate to severe hypertension and hospitalization due to any cardiovascular cause.
Pooled data from Study-1 (NCT01114139) and Study-2 (NCT01114204).
TSAT, transferrin saturation; Hgb, haemoglobin.
Conclusion
IBD patients with IDA, who had been unsuccessfully treated with oral iron, had very poor baseline HRQOL scores. Treatment with FER resulted in a substantial increase in Hgb and decrease in fatigue, with a safety profile similar to the overall IDA population.