P457. Impact of medical therapies on the natural history in ulcerative colitis. An 8-year follow-up of a cohort study from a tertiary center
A. Indriolo, P. Ravelli, Papa Giovanni XXIII Hospital, Gastroenterology and Digestive Endoscopy Unit, Bergamo, Italy
Background
About half of ulcerative colitis patients have an active disease 10 years after diagnosis. It is not known how medical therapy influences the natural history in ulcerative colitis (UC).
Aim of this study is to evaluate the real impact of medical therapies on the natural history in UC over a long-term period.
Methods
We followed prospectively UC patients in our center from 2001 to 2013. Patients were divided according to clinical activity in mild UC (N = 181) and moderate-to-severe UC (N = 75) and treated with different therapeutic regimens in agreement with the modern international guide-lines: 5-ASA, corticosteroids, immunosuppressants (azathioprine), anti-TNFalfa agents. Severe UC patients refractory to medical therapy underwent surgery (proctocolectomy). At 8 years of follow-up we evaluated: (1) the percentage of clinical remission patients and the percentage of active disease patients and their therapeutic regime associated; (2) the percentage of colectomy; (3) mortality related to UC.
Results
256 (median age: 48, range: 21–88, 144 males) UC patients completed a median 8-year (1–13 years) follow-up. One hundred and ninety-nine (77.7%) patients were in clinical remission: 172 (67.1%) patients were treated with 5-ASA and 27 (10.5%) patients were treated with azathioprine. Thirty-nine (15.2%) patients presented an active disease: 24 (9.3%) patients were treated with anti-TNFalfa + azathioprine, 12 (4.6%) patients were treated with only anti-TNFalfa, and 3 (1.1%) patients were treated with corticosteroids + 5-ASA. Fifteen (5.8%) patients underwent a colectomy. Mortality related to UC was observed in three (1.1%) patients.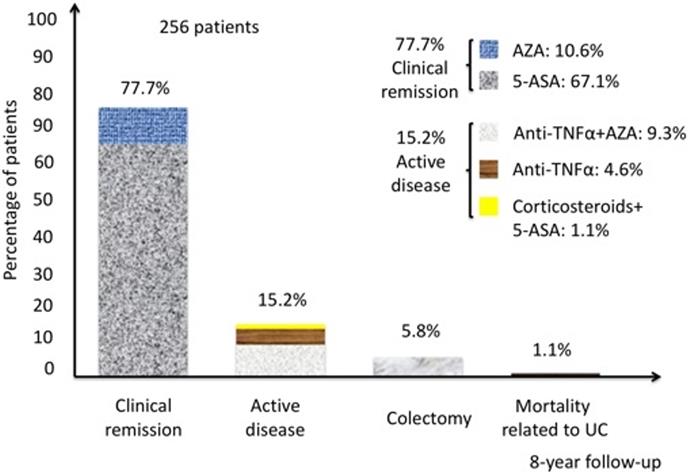 Conclusion
In contrast with previous studies which indicated a percentage of remission in about 50% of UC patients after a long-term follow-up, we observed in our study that about three-quarters of UC patients were symptom-free with 5-ASA or azathioprine, whilst 15% still had an active intestinal disease with the need for biological therapy with or without azathioprine or corticosteroids. 6% of patients underwent a colectomy for refractory to UC medical therapy. In line with previous studies, mortality related to UC was observed in a low percentage of patients.
In conclusion, the different medical therapies had a favorable impact on the course of most ulcerative colitis patients after a long-term follow-up.