P470. High infliximab trough levels are associated with impaired quality of life in IBD patients in clinical and biochemical remission on maintenance IFX therapy
M. Löwenberg1,2, J. Brandse2,3, L. Vos2,3, C. Ponsioen2,3, G. van den Brink2,3, G. D'Haens2,3, 1Academic Medical Center, Gastroenterology & Hepatology, Amsterdam, Netherlands, 2AMC, Gastroenterology, Amterdam, Netherlands, 3Academic Medical Center Amsterdam, Department of Internal Medicine, Amsterdam, Netherlands
Background
Preliminary evidence suggests a therapeutic window for infliximab (IFX) trough levels (TL's) in patients with inflammatory bowel disease (IBD). It remains unknown if higher or presumably 'supra-therapeutic' TL's are associated with adverse effects. The aim of this study was to identify a possible correlation between high TL's, side effects of IFX treatment and quality of life.
Methods
We performed a cross-sectional study in IBD patients in clinical and biochemical remission. Clinical remission was defined as HBI <5 for Crohn's disease (CD) and CCAI <5 for ulcerative colitis (UC). Biochemical remission was defined as a fecal calprotectine <250 microgram/gram). IFX TL's and biochemical markers to rule out alternative diagnosis for fatigue were assessed (Hb, Ht, TSH, CRP and vitamin D). Quality of life was assessed by IBDQ and SF-36. Fatigue and joint pain were measured by VAS scores and for skin lesions a skin questionnaire was conducted. The patient cohort was separated in patients with 'therapeutic' (IFX TL 3–7 ug/ml) and 'supra-therapeutic' (IFX TL >7 ug/ml) drug levels.
Results
Thirty-seven out of 81 IBD patients (26 CD and 11 UC) met the criteria for clinical and biochemical remission. The median CRP, fecal calprotectine and haemoglobin concentration was 0.7 mg/l, 63 microgram/gram and 8.7 mmol/l, respectively, while median IBDQ was 180. Therapeutic TL's were found in 29 out of 37 (78%) patients, whereas 8 out of 37 (22%) patients had supra-therapeutic TL's. Antibodies to IFX were undetectable in all patients. Inverse correlations between TL concentrations and quality of life determinants were found for IBDQ (−0.370, P < 0.05) and the following domains of the SF-36 questionnaire: social (−0.359, P < 0.05), pain (−0.406, P < 0.05) and perception (−0.380, P < 0.05). Patients with supra-therapeutic TL's had lower SF-36 scores, compared to the therapeutic TL group, in 5 out of 9 domains (figure), of which two were significant: social (50 versus 70; P < 0.05) and pain (67.5 vs. 88; P < 0.05). The two groups scored equally for the remaining 4 SF-36 domains. Although this didn't reach significance, patients with supra-therapeutic TL's reported a lower quality of life by IBDQ (175 vs. 185; P = 0.30) and more joint pain (13.5 vs. 6.0; P = 0.33).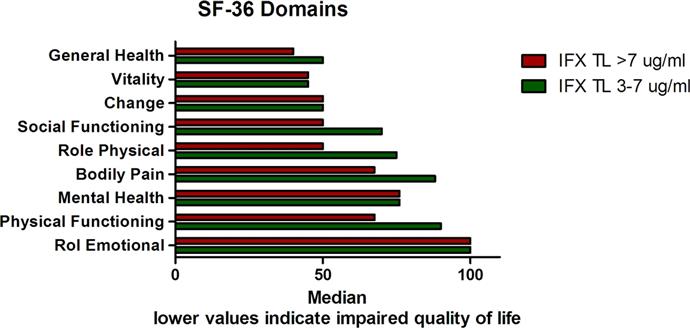 Conclusion
IBD patients who are in clinical and biochemical remission with supra-therapeutic IFX TL's have an impaired quality of life compared to those with therapeutic IFX TL's. Future trials should determine whether dose de-escalation would abolish these side effects.