P516. Discrepancy between fecal biomarkers and their intestinal gene expression in ulcerative colitis: Results from an anti-IL-13 antibody study
W. Reinisch1, J. Panes2, K. Page3, S. Khurana4, F. Hua3, G.M. Comer3, M. Hinz3, T. McDonnell Moorehead3, F. Cataldi3, 1Medical University of Vienna, Internal Medicine/Gastroenterology, Vienna, Austria, 2Hospital Clinic I Provincial, Department of Inflammatory Disease, Barcelona, Spain, 3Pfizer Inc., Gastroenterology, Cambridge, United States, 4Premier Medical Group, Gastroenterology, Poughkeepsie, New York, United States
Background
IMA-638 is a humanized antibody that binds and inhibits human interleukin 13 (IL-13). Elevated levels of IL-13 transcripts have been found in rectal biopsies of ulcerative colitis (UC) patients and lamina propria mononuclear cells (LPMC) from UC patients secrete high titers of IL-13 upon re-stimulation in vitro. In this study, we explored fecal calprotectin (FC), lactoferrin, and YKL-40 as non-invasive biomarkers for the evaluation of IMA-638 efficacy in UC. All three proteins are abundant in neutrophils and monocytes and are elevated in the stools of patients with UC.
Methods
This was a double blind, placebo-controlled study with patients 18–65 years of age with active UC (Mayo Score 4–10) randomized to receive IMA-638 at one of 3 doses levels (200 mg, 400 mg, 600 mg) or placebo (P). The primary endpoint was fold change from baseline in FC at week 14 measured using a highly sensitive ELISA (Buhlmann Labs). Fecal lactoferrin and YKL-40 were measured using independent ELISAs (Techlab; R&D Systems) from the same homogenized stool samples. The expression of genes encoding calprotectin (S100A8, S100A9) and YKL-40 (CHI3L1) were measured on TLDAs using RNA extracted from colon biopsies.
Results
The modified intent to treat population (mITT) included 84 patients with 21 patients/arm. At week 14, the superiority of 200, 400 and 600 mg compared to P in terms of fold change of FC from baseline was not met. This result was supported by a similar lack of effect seen in fecal lactoferrin and YKL-40. The levels of all 3 proteins, at both baseline and week 14, were well correlated to each other. FC and YKL-40 proteins measured in the stool, however, did not correlate with expression of their respective genes in inflamed colon biopsies. The expression levels of S100A8, S100A9, and CHI3L1 were increased in inflamed compared to non-inflamed biopsies, but did not change with treatment. No evidence of safety and tolerability concerns were noted and only a numerical trend was observed in the efficacy parameters measured by the Mayo score for the 200 and 400 mg doses but not for the 600 mg dose. Lastly, a statistically significant correlation was observed between FC and Total Mayo Score (p = 0.038).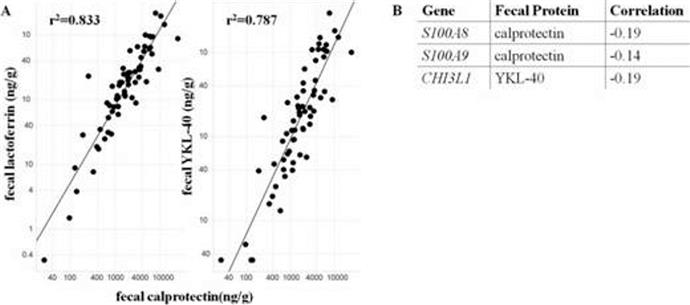 Conclusion
This study was unable to confirm the effect of IMA-638 after 14 weeks of treatment in patients with UC using FC as a primary endpoint. This study, however, does not rule out the use of fecal proteins in future studies as biomarkers of efficacy in UC.