P570. Adalimumab therapy in children with Crohn's disease previously treated with infliximab; a Dutch nationwide study
M. Cozijnsen1, V. Duif2, F. Kokke3, A. Kindermann4, P. van Rheenen5, T. de Meij6, M. Schaart7, G. Damen2, O. Norbruis8, R. Pelleboer9, A. Van den Neucker10, H. van Wering11, T. Hummel12, J. Escher13, L. de Ridder13, 1Erasmus Medical Center, Pediatric Gastroenterology, Rotterdam, Netherlands, 2Radboud University Nijmegen Medical Center, Pediatric Gastoenterology, Nijmegen, Netherlands, 3Wilhelmina Children's Hospital-Utrecht Medical Center, Pediatric Gastoenterology, Utrecht, Netherlands, 4Emma Children's Hospital-Academic Medical Center, Pediatric Gastoenterology, Amsterdam, Netherlands, 5Beatrix Children's Hospital-University Medical Center Groningen, Pediatric Gastoenterology, Groningen, Netherlands, 6VU University Medical Center, Pediatric Gastoenterology, Amsterdam, Netherlands, 7Willem-Alexander Kinderziekenhuis-Leiden University Medical Center, Pediatric Gastoenterology, Leiden, Netherlands, 8Princess Amalia department of pediatrics, Isala, Pediatric Gastoenterology, Zwolle, Netherlands, 9Catharina Hospital, Pediatric Gastoenterology, Eindhoven, Netherlands, 10Maastricht University Medical Center, Pediatric Gastoenterology, Maastricht, Netherlands, 11Amphia Hospital, Pediatric Gastoenterology, Breda, Netherlands, 12Medisch Spectrum Twente, Pediatric Gastoenterology, Enschede, Netherlands, 13Erasmus MC-Sophia Children's Hospital, Pediatric Gastroenterology, Rotterdam, Netherlands
Background
Adalimumab, a humanized anti-tumor necrosis factor (TNF) antibody, is an effective treatment in patients with refractory Crohn's disease (CD). Adalimumab has received its registration for pediatric CD on the basis of a recent international multicenter study [1]. The available literature on the efficacy and safety of adalimumab in pediatric CD is limited. We aim to assess the efficacy and safety of adalimumab in clinical care.
Methods
In this first nationwide survey, data of all Dutch CD patients who started with adalimumab treatment before the age of 18 after failing infliximab (IFX) treatment, were collected. Demographic data, clinical response to adalimumab and adverse events were recorded.
Results
Fifty-two CD patients were included, treated between 2005 and 2013. Median age at diagnosis was 11 years (IQR 8–13) and 14 years (IQR 13–16) at the start of adalimumab. Median follow-up time was 11 months (IQR 4–22). In total 35 patients (67%) obtained remission [mathematically weighted pediatric Crohn's disease activity index (wPCDAI) <12.5 or Physician Global Assessment (PGA) = 0] during follow-up after a median of 2.5 months (IQR 1–7). In 18 patients (35%) adalimumab treatment failed during follow-up; either due to primary non response (n = 5; 10%), a secondary loss of response (n = 10; 21%) or adverse events (n = 3; 6%), with a median duration until adalimumab failure of 4 months (3–17). Sub analyses show that the risk of adalimumab failure is lower when antibodies to infliximab (ATI) were present prior to introduction of adalimumaband, second, that the reason for IFX failure, such as primary non response or secondary loss of response, influences the risk of subsequent adalimumab failure.
Minor adverse effects were reported in 20 patients (38%), 1 patient (2%) developed a severe adverse effect, a severe but nonfatal infection.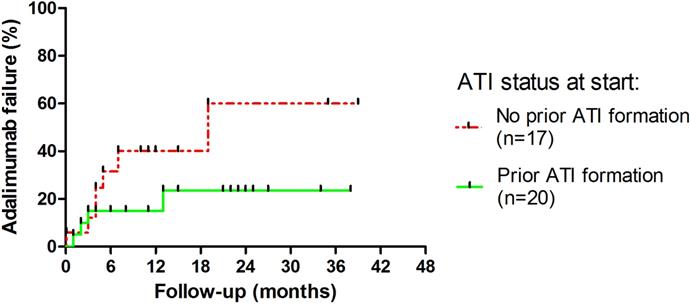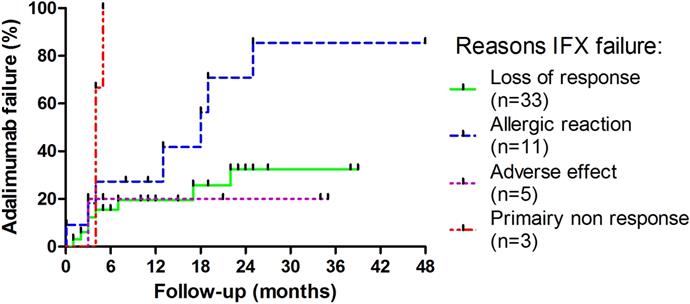 Conclusion
This study demonstrates that for pediatric CD patients who previously failed infliximab therapy, adalimumab is a reasonably safe and effective drug, able to induce and maintain remission in the majority of patients. But adalimumab failure does occur in a substantial number of patients, increasingly over time.
1. Hyams JS, et al., (2012), Safety and efficacy of adalimumab for moderate to severe Crohn's disease in children, Gastroenterology, 365–74.