P615. Incidence of microscopic colitis in the Netherlands. A nationwide population-based study from 2000–2012
Background
The incidence rates of microscopic colitis (MC) seem to vary between countries. However, the number of epidemiological studies is limited and generally based on regional data in relatively small populations, which makes it hard to draw firm conclusions on the geographical distribution and changes over time. Therefore, we aimed to assess the mean annual incidence rate of MC in the Netherlands in a nationwide population-based cohort from 2000–2012.
Methods
A retrospective search was performed in the Dutch national pathology registry (PALGA), covering all pathology records of approximately 16.5 million inhabitants since 1991. The search included all pathology conclusions with the diagnosis microscopic, collagenous (CC), or lymphocytic colitis (LC) between January 2000 and December 2012 in the Netherlands. The published diagnostic criteria for CC and LC were applied. Cases were classified as undefined MC (uMC) if specific features for CC or LC were not noted. Incident cases were defined as subjects with a first diagnosis of CC, LC, or uMC.
Results
In total, 6,863 incident cases were identified. The overall mean annual incidence rate for all MC cases was 3.2 per 100,000 person years. We found 3,724 cases of CC (75.6% females) and 2,385 cases of LC (70.5% females) with an overall mean annual incidence rate of 1.7 and 1.1 per 100,000 person years, respectively. Remaining 754 cases were described as uMC. From 2000 to 2012, the incidence rates increased significantly from 1.2 to 2.5 per 100,000 person years (p < 0.001) in CC and from 0.3 to 2.3 per 100,000 person years (p < 0.001) in LC (see Figure). Compared to CC, the incidence rate of LC increased significantly more over time. The total number of MC cases per 1,000 colonoscopies increased as well, from 2.3 to 2.9 between 2004 and 2011. For both CC and LC the median age at diagnosis was 61 years. Females above 65 years of age had a 3.6 and 3.3 times increased risk of CC and LC, respectively, compared to those below 65 years.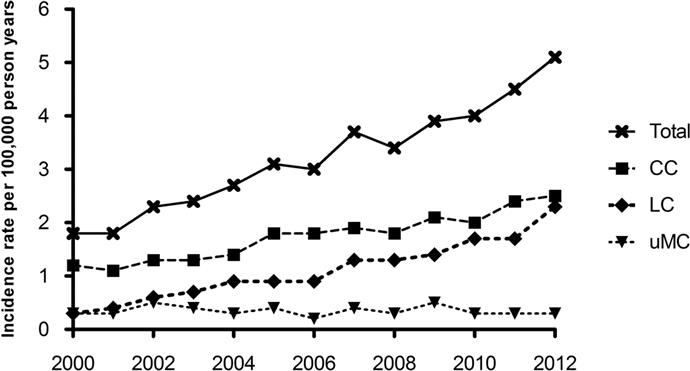 Conclusion
In this Dutch, nationwide population-based study the CC and LC mean annual incidence rates were considerably lower than the incidence rates published so far. However, both CC and LC incidence rates increased significantly over time with a clear predominance for elder females. The increase can only partially be explained by the raise in annually performed colonoscopies. Further research on environmental and lifestyle risk factors may reveal explanations for the discrepancy in international MC incidence rates and changes over time.