P644. Alcohol consumption within the Swiss IBD Cohort Study
Background
Little is known about the prevalence of alcohol consumption among inflammatory bowel disease patients and whether it could have an impact on their disease. Pathophysiologically, alcohol alters intestinal physiology by increasing intestinal permeability, disrupting gut barrier function and inhibiting intestinal immune system. Moreover, alcohol favors development of bacterial overgrowth.
Methods
We aim to estimate the prevalence of alcohol consumption within the Swiss IBD cohort study and identify possible risk factors or clinical patterns associated with heavy alcohol consumption and potential outcome of this abuse.
Patients were identified through a screening question in the enrollment questionnaire of the Swiss IBD cohort and then distributed among 3 categories: non drinkers (abstainer or seldom), light-to-moderate drinkers (1–2 weekly to daily alcohol consumption), heavy drinkers (≥2× daily). Disease characteristics and social parameters were compared in order to identify group at risk and possible impact on their disease.
Results
We analyzed available data from 2019 IBD patients who had answered the question about alcohol consumption from July 2006 till May 2013 in the Swiss IBD cohort patient's questionnaire. Among them 870 IBD patients (43%) (450 Crohn's disease and 420 with colitis) were identified as drinkers. Heavy drinkers were elderly men with a tendency to overweight and mostly had Crohn's disease (p < 0.001). Drinkers reported significantly less extraintestinal manifestation than non-drinkers (39% vs. 32%, p < 0.01). Interestingly, the heavy drinkers were receiving less immunosuppression (conventional immunosuppressants and anti-TNF agents) during their whole disease history. Previous hospitalization (last 12 months before enrollment) were also less frequent in the heavy drinkers than the other groups (10 vs 22%, p = 0.001) and they had less anemia (15% vs. 27%, p = 0.001). Light to moderate Alcohol consumption seemed protective against intestinal resections. Penetrating behavior and smoking habits were similar among groups.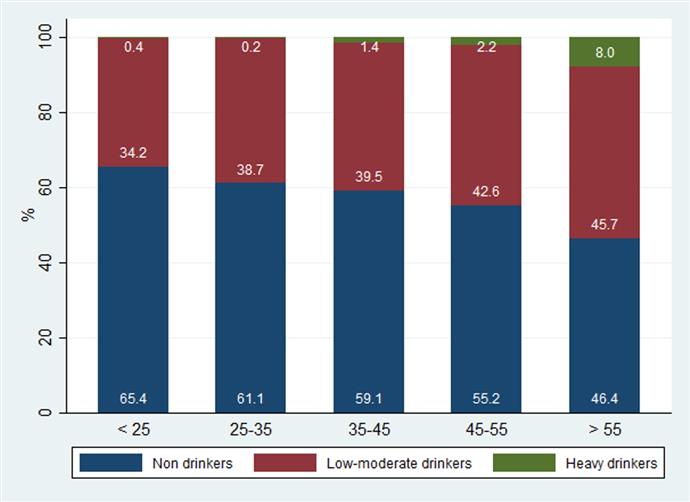 Conclusion
In the nation-wide Swiss IBD cohort the prevalence of drinkers was about 43%, and among them 6% of heavy drinkers (2.6% of the whole cohort). Patients over 50 years old, slightly overweighted and suffering mostly from Crohn's disease were more likely to be heavy drinkers. They also seem to be less treated with immunosuppression (AZA, MTX and Anti-TNF) and, however, having a milder course of disease (less hospitalization and anemia). Therefore, a prospective study is ongoing, to better understand the clinical management (doctors worried about infections or patients non adherence) and disease course of these patients.