NO003 Development of a Web-based application to improve quality of life in IBD patients.
F. Murciano Gonzalo*1, I. A. Ibañez Zafón1, M. Gallego Barrero2, Pilar González Gálvez3
1Hospital del Mar, Gastroenterology, Barcelona, Spain, 2Hospital Clínic , Gastroenterology, Barcelona, Spain, 3Blanquerna - Universitat Ramon Llull, School of Nursing, Barcelona, Spain
Background
One of the major concerns of most people living with IBD is the unpredictable and urgent nature of defecation. The fear of urgent diarrhea and not getting to the toilet in time results in a significant curtailing of activities and can lead to a loss of self-worthiness and isolation. Loss of bowel control can have a devastating effect on psychological wellbeing and quality of life of IBD patients.
There is an acute scarcity of public toilets in most spanish cities. In Barcelona there is no city run public toilet system, however there are a thousand public bathrooms (in public facilities and municipal spaces) unknown to the majority of citizens. To facilitate their location would help IBD people to get on with everyday life outside the home.
This research aims to develop a web-based resource designed to give information on public toilets in the city of Barcelona, and to investigate if BarcelonaWC web use can improve the wellbeing and the quality of life in IBD patients.
Methods
The method used was "user-centred design". BarcelonaWC prototype was design in collaboration with a Crohn's disease patient who works as a computer engineer and undergoes regular follows-up at the IBD outpatient clinic.
To evaluate the prototype and its usability a before-after pilot study with no control group was conducted. A questionnaire pack comprising the IBDQ and an ad hoc satisfaction survey was used.
Descriptive statistics for qualitative variables and Paired samples t-tests for quantitative data.
This study was approved by Hospital del Mar Research Ethics Committee. A Creative Commons © license was obtained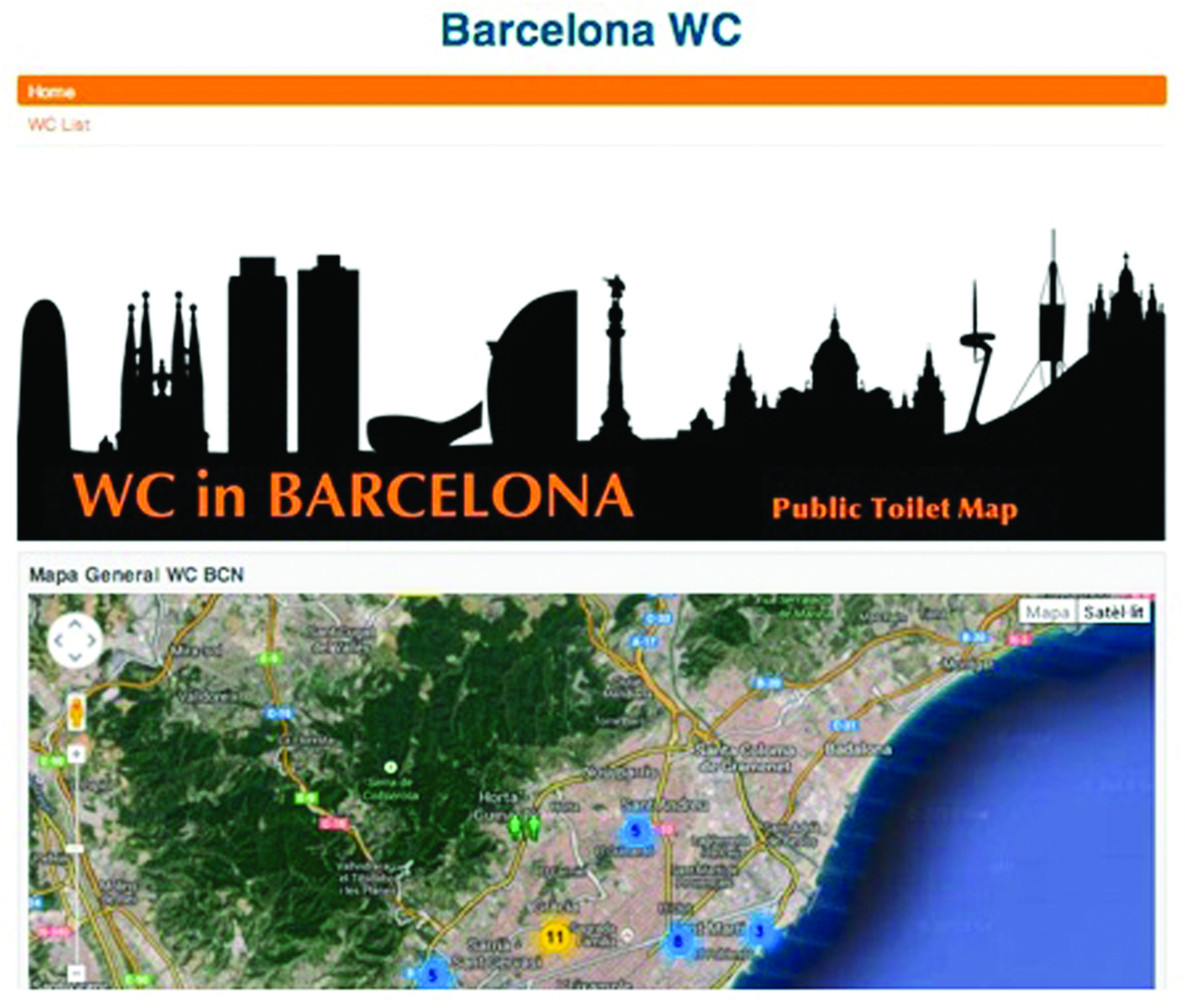 "Screen capture of BarcelonaWC web."
Results
A total of 12 IBD patients were included in the pilot study.
There were statistically significant differences between the before-after IBDQ scores [124 ± 39,06 vs 140,58 ± 40,59] and the feedback received from the patients group was very positive. Suggestions received will be used to improve website content.
Conclusion
Management of people with a chronic illness must go beyond the strictly medical. The incorporation of technology in health care has encouraged the creation of applications and web-based resources that provide solutions to real problems for people dealing with IBD, such as the location of public toilets in a city.
Preliminary study results showed the use of BarcelonaWC web is a step in the direction of improving quality of life of IBD patients. Final prototype will be available within 3 months time.
Acknowledgement: special thanks to Antartich, whose expertise and commitment have been vital to the project.