P012 Efficacy, toxicity and positive psychological effects drive IBD patient preferences on steroid use
A. Baakhtari1, A. McCombie*2, R. Mulder2, J. Falvey3, C. Siegel4, P. Irving5, C. Mulder1, R. Gearry6
1VU University Medical Centre, Gastroenterology and Hepatology, Amsterdam, Netherlands, 2University of Otago, Medicine, Christchurch, New Zealand, 3Christchurch Hospital, Gastroenterology, Christchurch, New Zealand, 4Dartmouth-Hitchcock Medical Center, Gastroenterology and Hepatology, Hanover, New Hampshire, United States, 5Guy's and St. Thomas Hospital, Gastroenterology, London, United Kingdom, 6University of Otago, Christchurch Hospital, Medicine and Gastroenterology, Christchurch, New Zealand
Background
Corticosteroids induce remission or response in 85% of patients with active inflammatory bowel disease (IBD). However, corticosteroids have significant toxicity [1] and it has been suggested that their early use may be associated with poor long-term outcomes. We aimed to determine the patient, IBD and steroid-experience factors that shaped patient perspectives on the use of corticosteroids.
Methods
An on-line questionnaire examined patient demographic, IBD, comorbidity and drug therapy data, including patient experiences of corticosteroid use. The primary outcome was whether patients would take corticosteroids again for IBD. Patients were recruited through Christchurch Hospital IBD clinics, CCNZ and associated patient support groups. Patients were ineligible if they were aged less than 18 years or had never received corticosteroids.
Results
Four hundred and fifty-three participants completed the questionnaire and had their data analysed. Baseline demographic, disease and co-morbidity data are shown in Table 1.
"Table 1 Baseline characteristics of study population"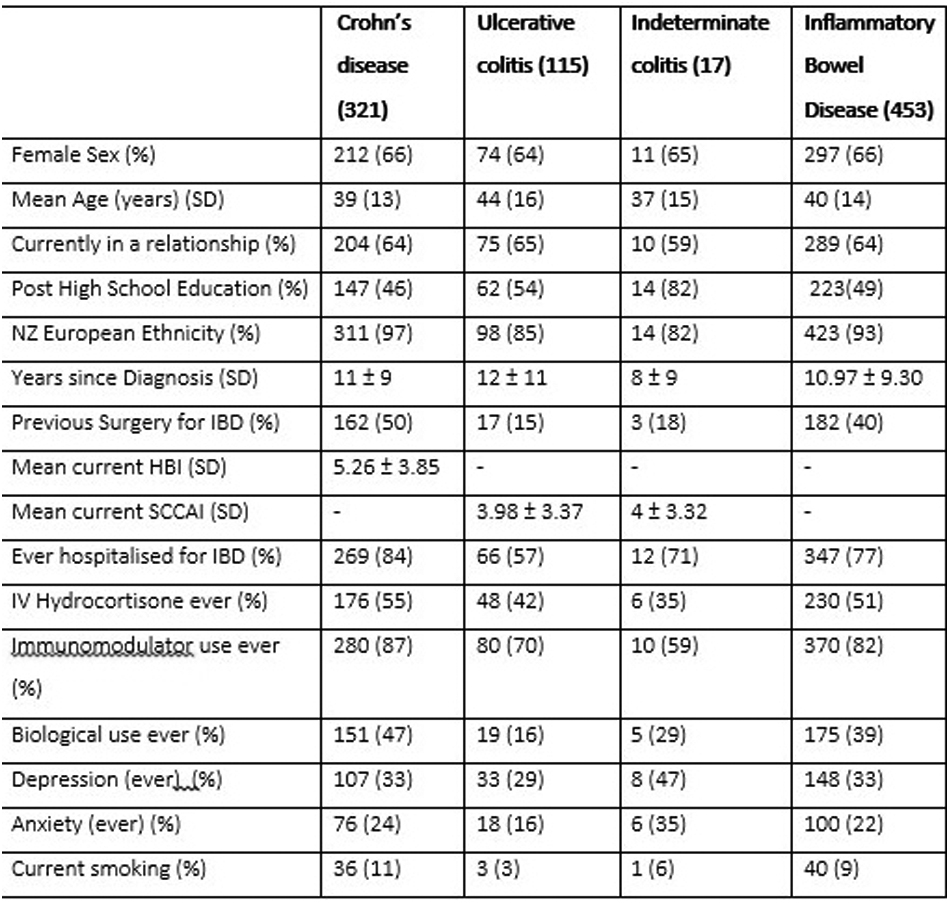 Three hundred and twenty-two out of 585 (71.1%) of respondents would use corticosteroids again for the treatment of IBD. In a multivariate model, previous moderate-complete steroid efficacy (odds ratio (OR) 6.4 [95% confidence intervals (95%CI) 3.6–11.4]), steroid toxicity (OR 0.09 [0.04–0.25]) and positive steroid side effects (e.g., elevated mood or energy; OR 3.3 [95%CI 1.9–5.9]) were associated with patients being prepared to take steroids again for IBD.
"Figure
Conclusion
While steroids remain a mainstay for the induction of remission of IBD, these data suggest that preferences for steroid use are not only driven by previous experience of steroid efficacy and toxicity, but also positive side effects associated with steroid use.
There is little recognition that some patients may experience mild pleasant side effects from steroids which might encourage prolonged steroid use. However, positive psychological effects may lead to steroid-seeking behavior in a sub-group of IBD patients. Therefore, clinicians should enquire about positive side effects of steroids and monitor those patients who experience them closely.
References:
[1] Thomas, A and Lodhia, N, (2014), Advanced Therapy for Inflammatory Bowel Disease: A Guide for the Primary Care Physician, Journal of the American Board of Family Medicine, 411-420