P020 Quantification of the concentration of antibodies against Infliximab in human serum using a pure antibody as calibrator
B. Hernández-Breijo1, M. Chaparro*2, I.D. Román1, J. Monserrat3, D. Cano-Martínez1, P. Sanmartín-Salinas1, I. Guerra4, M. Iborra5, J.L. Cabriada6, L. Bujanda7, C. Taxonera8, V. García-Sánchez9, I. Marín-Jiménez10, M. Barreiro de-Acosta11, I. Vera12, M.D. Martín-Arranz13, A. López-San Román14, L. Sempere15, F. Gomollón16, M.D. Hinojosa17, J.P. Gisbert2, L. Guijarro1
1Universidad de Alcalá and CIBERehd, Systems Biology, Alcalá de Henares, Spain, 2Hospital Universitario de La Princesa, IIS-IP and CIBERehd, Gastroenterology Unit, Madrid, Spain, 3Universidad de Alcalá, Medicine and Medical Specialties, Alcalá de Henares, Spain, 4Hospital Universitario de Fuenlabrada, Gastroenterology Unit, Madrid, Spain, 5Hospital Universitario La Fe and CIBERehd, Gastroenterology Unit, Valencia, Spain, 6Hospital Galdakao, Gastroenterology Unit, Vizcaya, Spain, 7Hospital de Donostia, Instituto Biodonostia, UPV/EHU and CIBEREHD, Gastroenterology Unit, Guipuzcoa, Spain, 8Hospital Clínico Universitario San Carlos and IdISSC, Gastroenterology Unit, Madrid, Spain, 9Hospital Universitario Reina Sofía, Gastroenterology Unit, Córdoba, Spain, 10Hospital General Universitario Gregorio Marañón, Gastroenterology Unit, Madrid, Spain, 11Complejo Hospitalario Universitario de Santiago, Gastroenterology Unit, Santiago de Compostela, Spain, 12Hospital Universitario Puerta de Hierro , Gastroenterology Unit, Madrid, Spain, 13Hospital Universitario La Paz , Gastroenterology Unit, Madrid, Spain, 14Hospital Universitario Ramón y Cajal, Gastroenterology Unit, Madrid, Spain, 15Hospital General Universitario de Alicante, Gastroenterology Unit, Alicante, Spain, 16Hospital Clínico Universitario Lozano Blesa and CIBERehd, Gastroenterology Unit, Zaragoza, Spain, 17Hospital de Manises, Gastroenterology Unit, Valencia, Spain
Background
The development of antidrug antibodies (ATI) has been associated with IFX failure. Several Methods have been developed for detecting ATI; homogeneous mobility shift assay (HMSA)is considered the most accurate method as it allows studying the interaction between IFX and ATI by analysing the changes in the molecular weight of the drug. This characteristic increases the specificity of the method and avoid false-positive Results observed with ELISA based Methods. However, an optimal calibrator to quantify the concentration of ATI is lacking.
Aims: To improve the method for quantifying ATI by the use of an optimal calibrator.
Methods
Human sera from healthy volunteers (n=20) and Crohn's disease (CD) patients (n=19) were analysed. CD patients with active disease (CDAI>150) naïve to anti-TNF treatment were included. Patients received IFX 5 mg/kg at weeks 0, 2, 6 and 14. Biochemical evaluation of ATI was assessed at baseline and week 14. ATI were measured using HMSA. After incubation of human sera with IFX-alexa 488, samples were injected onto Size Exclusion Yarra 3000 HPLC column (Phenomenex, USA) to measure ATI-IFX complexes. The calibration curve in order to quantify ATI in serum was constructed by diluting a pure IgG1 anti-idiotypic anti-IFX antibody generated by HUCAL (Human Combinatorial Antibody Library) technology (Abd Serotec, Germany) in human serum. The purity of the calibrator was corroborated by electrophoresis and subsequent silver staining. The characterization of the molecular weight of the complex between the calibrator and IFX was estimated by SE-HPLC using IFX-alexa 488
Results
We observed a peak for the complex corresponding to 300 kDa as expected for 2 IgG bound. The calibrator showed a high affinity (Kd = 3.9 nM) and a high specificity for IFX. These parameters were assessed by measuring the decrease of fluorescence of 300 kDa peak in presence of unlabelled IFX for the affinity study and of adalimumab or anti-Fc for specificity study. The calibration curve in a range of concentration of 1.3-33.3 nM was linear. The limit of detection was 1.3 nM. At week 14, 26.3% of the patients (n=5) had over 3 nM of ATI concentration (Figure 1).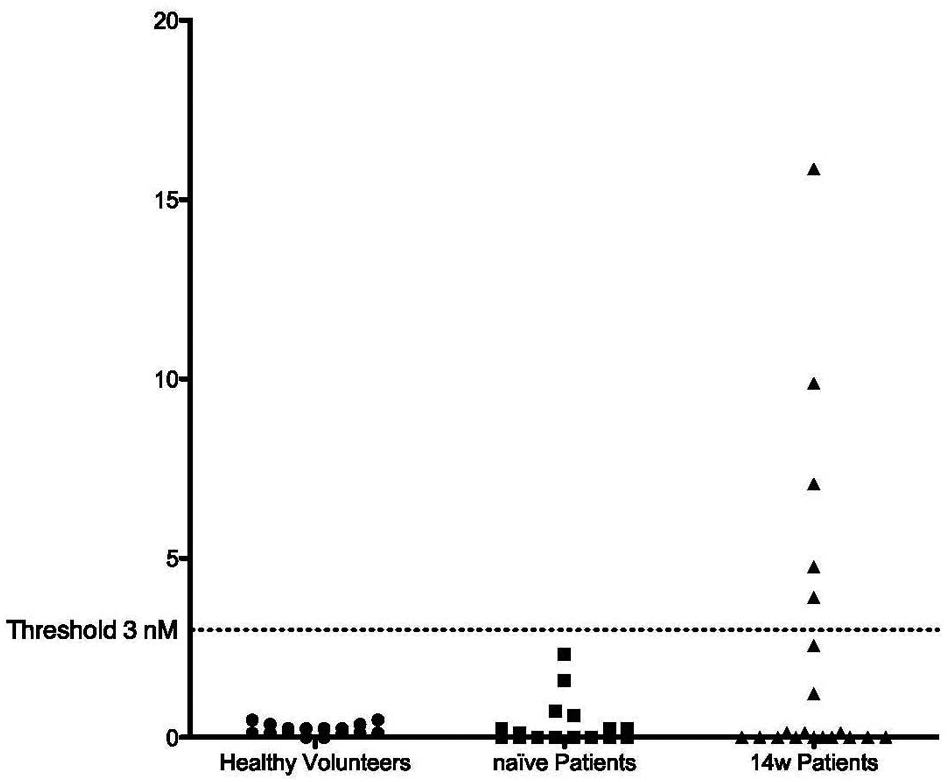 "Figure 1: ATI levels in healthy volunteers, Crohn's disease patients naïve to anti-TNF drugs and after 14 weeks of treatment with IFX"
This concentration could be considered threshold because none of the healthy volunteers and the patients before receiving IFX had over 3 nM of ATI concentration.
Conclusion
A pure IgG1 anti-idiotypic anti-IFX antibody for the calibration curve allows accurately quantifying the concentration of ATI identified by HMSA