P063 Mesalazine and cigarette smoke inhibit neutrophil extracellular trap formation in vitro
M. Buis, N. Sinnema, T. Blokzijl, K.-N. Faber, J. Westra, G. Dijkstra*
University of Groningen, University Medical Center, Gastroenterology and Hepatology, Groningen, Netherlands
Background
The mucosal infiltrate in ulcerative colitis (UC) is dominated by neutrophils. NET formation is a form of neutrophil cell death used to trap micro-organisms. These neutrophil extracellular traps (NETs) are not only involved in innate immunity, but also in proinflammatory responses. NETs are characterized by the release of DNA and other intracellular components. Citrullination of histones by PAD4 is one of the first steps in a cascade inducing NET formation. Both treatment with mesalazine and cigarette smoking are known to have a beneficial effect on UC, possibly through inhibition of NET formation. The aim of this study was to determine the effect of mesalazine and cigarette smoke extract (CSE) on NET formation in vitro.
Methods
Neutrophils were obtained from the peripheral blood of 15 healthy volunteers and stimulated with Phorbol 12-myristate 13-acetate (PMA), after which they were treated with prednisolon (0-5 ug/ml), mesalazine (0-5mM), hydroxychloroquine (5- 20 uM) or CSE (0-30%). NET-formation was quantitatively assessed by measuring the amount of extracellular DNA. To visualize the presence of NETs we used immunofluorescence (IF) staining for neutrophil elastase (NE), myeloperoxidase (MPO), high-mobility group protein B1 (HMGB1) and Citrulinated Histone H3 (citr.H3).
Results
Both mesalazine and CSE showed a dose dependent inhibition of NET formation (figure 1), while prednisolon and hydroxychloroquine did not. IF showed the presence of MPO, NE and HMGB1 in the NETs. The inhibitory effect of mesalazine and CSE on NET formation was confirmed by IF: MPO and NE remained visible in the cytoplasm, while HMGB1 and citr.H3 stayed within the nuclei. Pretreatment with mesalazine and CSE induced differences in the morphology of the neutrophils: after mesalazine the neutrophils were more stretched with round nuclei, while after CSE treatment the shape was more rounded with polymorph shaped nuclei.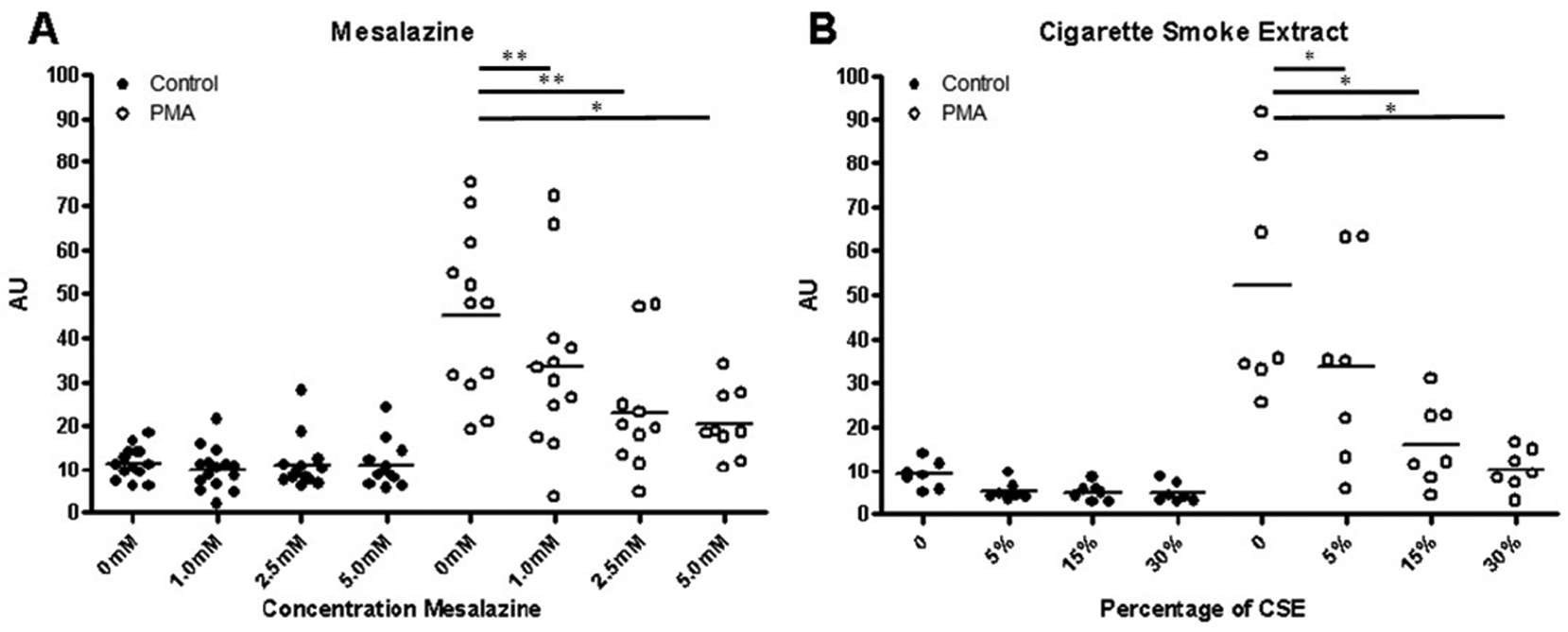 "Figure 1 The effects of mesalazine (A) and CSE (B) on unstimulated and PMA-stimulated neutrophils, measured using extracellular DNA-analysis."
Conclusion
Mesalazine and CSE inhibit NET-formation in a dose dependent manner in vitro. Inhibition of NET-formation, for instance by blocking PAD4 activity, might be a promising target for future UC therapy.