P070 Ferrous sulphate but not iron polymaltose complex aggravates local and systemic inflammation and oxidative stress in DSS-induced colitis in rats
J.E. Toblli*, G. Cao, M. Angerosa
University of Buenos Aires, School of Medicine, Hospital Alemán, Laboratory of Experimental Medicine, Buenos Aires, Argentina
Background
Blood loss and impaired absorption in inflammatory bowel disease (IBD) often leads to iron deficiency with or without anaemia (ID(A)). Yet, it has been shown that treatment with oral ferrous sulphate (FS) may worsen the disease symptoms and increase oxidative stress [1] . In this study, we compared the effects of oral FS and iron polymaltose complex (IPC) on inflammatory and oxidative stress markers in rats with chemically-induced colitis.
Methods
The rats were divided into four groups with ten animals each. Three groups received dextran sodium sulphate (DSS) in the drinking water to induce colitis, and in two of these groups the animals received 5 mg iron/kg body weight a day as FS (group DSS+FS) or IPC (group DSS+IPC) for seven days. The fourth group served as a control. Among others, histology, L-ferritin, tumour necrosis factor-α , interleukin-6, hepcidin, and oxidative stress markers in colon and liver, as well as gross colon anatomy, and serum levels of hepcidin and iron markers were assessed.
Results
All DSS-treated animals developed severe colitis and anaemia. Animals with colitis that were treated with IPC did not show significant differences to animals with colitis but without iron treatment in body weight, gross colon anatomy, crypt injury and inflammation scores, inflammatory parameters in liver and colon, as well as serum and liver hepcidin levels (Table 1). In contrast, treatment with FS caused significant (p<0.05) worsening of these parameters. Increasing oxidative stress in liver and colon was observed in the different groups in the order Control < DSS ≤ DSS+IPC ≤ DSS+FS. L-ferritin stainings, serum iron, and TSAT values indicated that iron absorption from IPC and FS took place, although they did not correct anaemia in this model of severe colitis.
Conclusion
In contrast to FS, IPC treatment did not significantly exacerbate colonic tissue erosion, local or systemic inflammation and caused only a minor increase in oxidative stress even at high therapeutic doses in rats with DSS-induced colitis. IPC may thus represent a valuable oral treatment of ID(A) in IBD patients, especially with regard to the typically long duration of oral iron treatments and the often re-emergent nature of ID(A) in IBD.
"Table 1 Selected parameters with standard deviations for each group at the end of the study."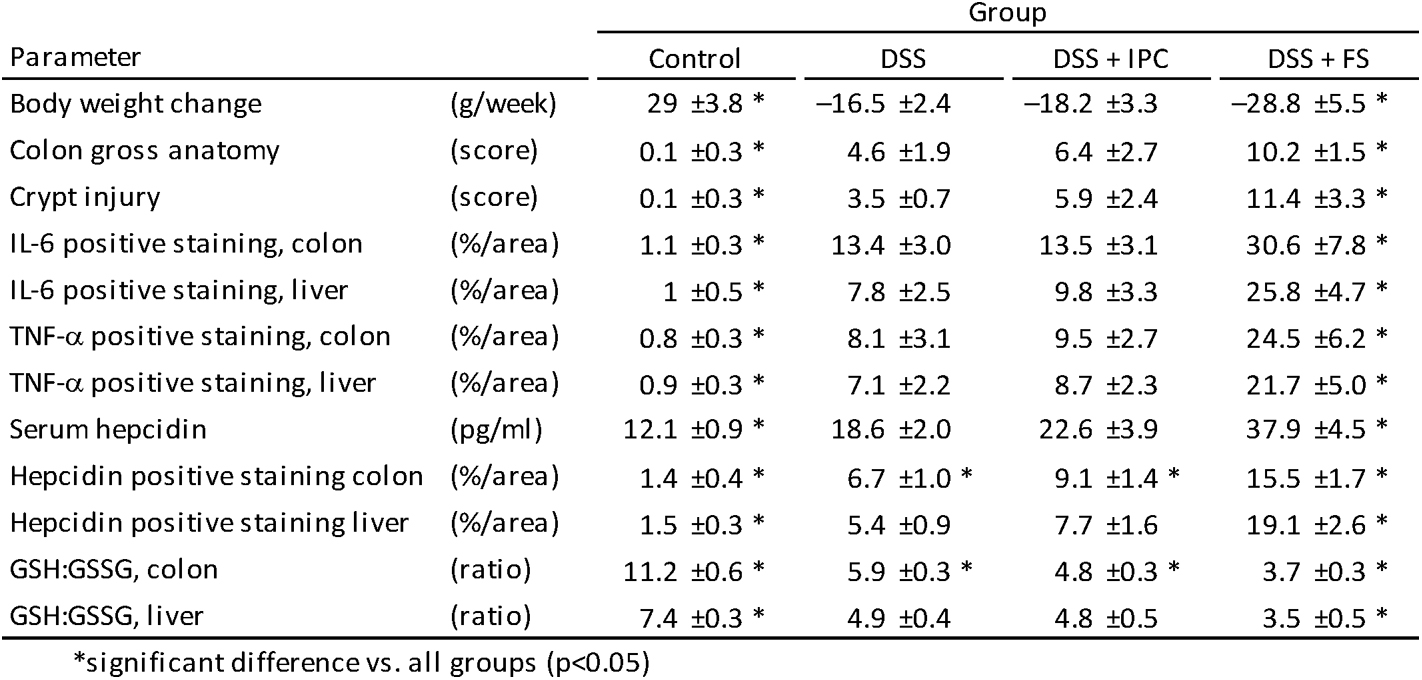 References:
[1] Kulnigg S, Gasche C, (2006), Systematic review: managing anaemia in Crohn's disease, Aliment Pharmacol Ther, 24:1507-1523