P072 Flow cytometric detection of vitamin D receptor changes during vitamin D treatment in Crohn's disease
M. Bendix*1, A. Dige1, B. Deleuran2, J.F. Dahlerup1, S.P. Jørgensen3, L.E. Bartels4, T. Harsløf5, L. Husted5, B. Langdahl5, J. Agnholt1
1Aarhus University Hospital, Department of Hepatology and Gastroenterology, Aarhus, Denmark, 2Aarhus University, Institute of Biomedicine, Department of Immunology, Aarhus, Denmark, 3Regional Hospital Horsens, Department of Medicine, Horsens, Denmark, 4Aarhus University Hospital, Department of Rheumatology, Aarhus, Denmark, 5Aarhus University Hospital, Department of Endocrinology and Internal Medicine, Aarhus, Denmark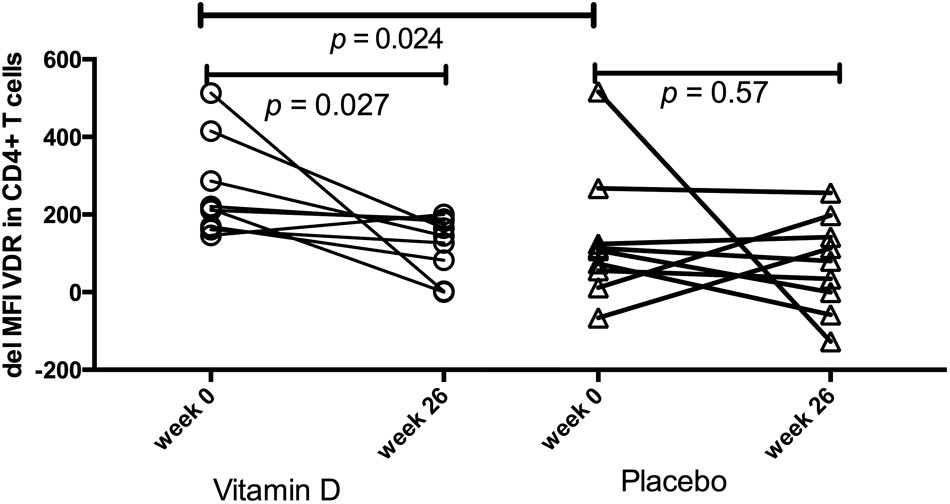 Background
Crohn's disease (CD) is characterized by a dysregulated T cell response towards intestinal microflora in genetically predisposed hosts. Vitamin D deficiency is common in CD. Vitamin D has immune modulatory effects on T cells through the nuclear vitamin D receptor (VDR) in vitro. It is unclear how oral vitamin D treatment affects VDR expression. We aimed to establish a flow cytometric protocol, including nuclear and cytoplasmic VDR expression, and to investigate the effects of vitamin D treatment on T cell VDR expression in CD patients.
Methods
The flow cytometric protocol for VDR staining was developed using the THP-1 cell line. The protocol was evaluated in anti-CD3/CD28-stimulated peripheral blood mononuclear cells (PBMCs) from vitamin D3- (n = 9) and placebo-treated (n = 9) CD patients. Anti-VDR-stained PBMCs were examined by flow cytometry, and their cytokine production was determined by cytokine bead array. VDR, CYP27B1 and RXR α mRNA expression levels in CD4+ T cells were measured by quantitative reverse transcriptase PCR.
Results
The flow cytometry protocol enabled detection of cytoplasmic and nuclear VDR expression. The Results were confirmed by confocal microscopy and supported by correlation with VDR mRNA expression. VDR expression in CD4+ T cells increased following stimulation. This VDR upregulation was inhibited with 30% by vitamin D treatment compared to placebo in CD patients (p = 0.027)(Figure 1).
VDR expression was correlated with in vitro interferon-γ production in stimulated PBMCs (p = 0.01).
Conclusion
Flow cytometry is a useful method to measure intracellular VDR expression. Vitamin D treatment in CD patients reduces T cell receptor-mediated VDR upregulation.